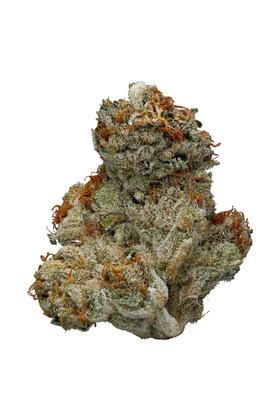 ---
Taste & Smell
Effects
Pairs Well With
About this Hybrid Strain
One of the first original 10 strains cultivated by "Leaf by Snoop" in 2015, the strain Tangerine Man is a potent and energizing Sativa dominant hybrid that was highly favored for its delicious terpene profile and uplifting effects.
Best suited for daytime use, Tangerine Man has been described by its fans to produce an incredibly intense cerebral lift that is accompanied with a stimulating and euphoric experience. It's been reviewed to be mood-enhancing, uplifting, and perfectly paired for social occasions, workouts, and other physical activities. As the high of Tangerine Man starts to settle in, users reported a light and pleasurable buzz that starts easing its way down the body, leaving the user relaxed and pain-free. It has also been reported that Tangerine Man increases sexual desire and arousal, so keep this strain in mind when planning an evening with your partner.
When properly cultivated and cured, Tangerine Man will produce small, compact, and dense buds that are hard to break apart by hand. It's mint green in color and coated in a plethora of gold trichomes that give it a warm golden glow.
Tangerine Man's mouthwatering citrus profile is prominent in its scent and taste. Its aroma is citrusy and sweet with undertones of creamy vanilla and fresh earth. When consumed, the flavorful smoke of Tangerine Man is citrusy, juicy, and accompanied by an earthy finish.
THC percentage levels of Tangerine Man average in the 20s so it is recommended that novice consumers and those sensitive to THC should take it slow with this strain.
---
Genetic Lineage
---
Frequently Asked Questions About Tangerine Man
What is Tangerine Man?

Tangerine Man is known to be one of the favorite strains from the Leaf by Snoop's line. This Sativa hybrid packs a cerebral punch that is enjoyed by both medical and recreational consumers.


Where does Tangerine Man come from?

Currently, the lineage of Tangerine Man is unknown.


What does Tangerine Man smell like?

The fragrant aroma of Tangerine Man is sweet and citrusy, with notes of vanilla and earth.


What does Tangerine Man taste like?

The delicious flavor of Tangerine man is citrusy and sweet with an earthy exhale.


What color does Tangerine Man have?

The buds of Tangerine Man are mint green, compact, and covered in a dense layer of golden trichomes.


What effects does Tangerine Man have?

Users reported Tangerine Man's onset of effects as energizing and uplifting, followed by a relaxing and pain-free euphoria.


Is Tangerine Man an Indica, Sativa or Hybrid?

Tangerine Man is a Sativa dominant hybrid strain.

---