Grow your dispensary & brand with Hytiva's Technology Suite Tailored Just For You
We understand that your business is unique. That's why Hytiva's Technology Suite of services has flexible options to help grow your business. Need help with marketing, branding, or operations? We have the products, experience, and expertise to help you succeed.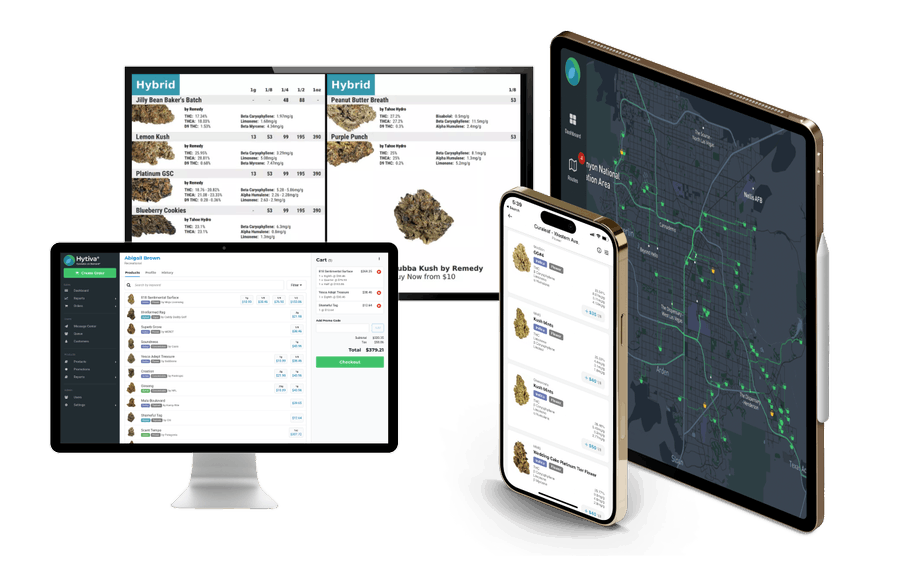 About
Why Choose Hytiva's Technology Services?
Since 2015, Hytiva has been a key player in the cannabis industry, with a portfolio of companies in every vertical. With our vast technology experience, we built a comprehensive Suite of Cannabis Services and Enterprise Software, tailor-made for the cannabis industry. Our solutions are crafted by expert engineers, from day one, without the disjointed acquisitions or messy third-party integrations of our competitors.
Hytiva isn't just offering technology, we're offering peace of mind and a path to success in the cannabis industry. Trust Hytiva — your partner in robust, seamless cannabis industry operations.
Dollar

Reduce Complexity & Increase Efficiency

Using one suite of services rather than multiple vendors reduces complexity. Sign In once to manage all of your dispensary technology needs, without the "back office, front office, state compliance system" shuffle.

Help

24/7 Customer Support

Unlike most technology companies where support means online chat with a bot or third-party contractor, Hytiva answers the phone, with real customer support staff. When you call Hytiva, our team answers with the knowledge you need and access to engineers.

Shield

Security & Compliance

In addition to our work on full SOC 2 compliance, Hytiva gets exceptional scores on security scans and security standards benchmarks that leave our competitors far behind.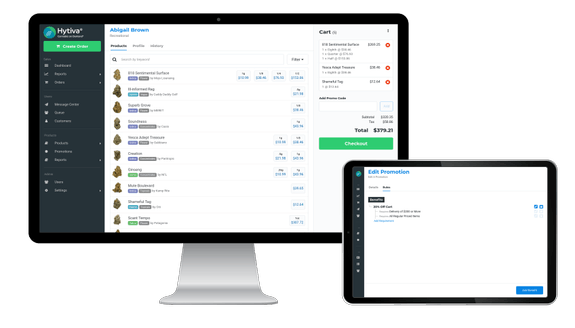 Point of Sale
Hytiva Point of Sale – Built for you, Tailored to You
At its inception, our POS was designed from many thousands of hours spent in dispensaries by engineers, listening to our clients and solving problems where other vendors ignored them. We live the problems you face day to day by sending engineers to clients to listen, learn, and build for you.
Hardware Freedom
Like the hardware you have? We can make it do more for you and support changes where you need to.
Automation Where it Counts
Automatic printing, enter lab data in seconds, automatic texting and more. Save real time with real help.
Reduce Costs and Complexity
Stop making accounts and paying for third parties to print receipts and deliver orders.
Your Data – Amplified
Real-time analytics, reports, and the freedom of the Hytiva® philosophy: We will integrate with anyone.
---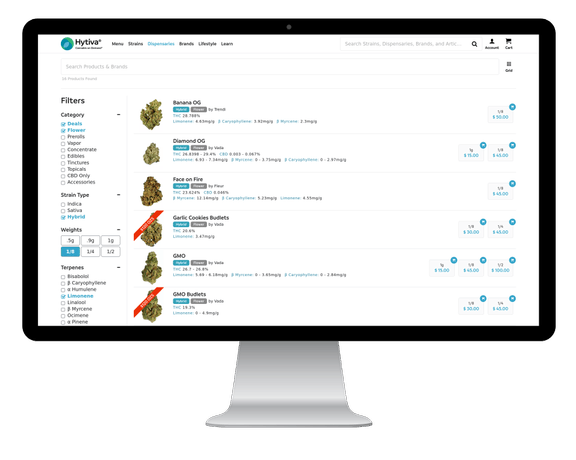 Dispensary Solutions
Online and In-Store Dispensary Solutions
Hytiva is there to support all your needs without compromising your service, your values, or staff time managing separate vendors. We let you focus on your business by breaking the boundaries separating in-store and online, with native mobile apps, digital displays, and so much more.
Online Menus & Ordering
Integrate your inventory in real-time for online ordering on your website and Hytiva.com.
Branded Native Mobile Apps
The fastest native mobile apps, with your brand, your content, and your rewards.
Digital Displays
Real-time digital displays with lab data and gorgeous imagery made easy and profitable.
Powerful Features Throughout
Promotions that aren't possible in other systems, texting and calling built-in, and much more.
Delivery
Expand Your Operations with Delivery Services
Hytiva® offers all you need to run a successful delivery service. We have proven that our delivery and online ordering increase average order values and customer retention while lowering costs and improving service in-store.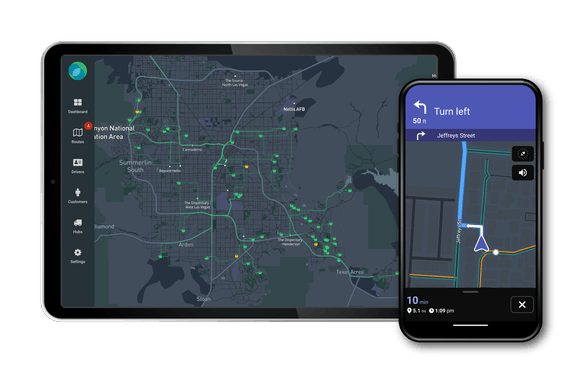 Built for Cannabis
Compliant driver information, routing based on cannabis carry limits, and more.
Logistics Built-In
Tired of third party apps and bills? Our custom logistics system is built-in and designed for the job.
Unified Communication
Your staff, your drivers, the Hytiva system, and the customer all communicate in one place with ease.
Customize the Experience
Customize messages, calls, notifications, and requirements to save time and care for your customers.
Business
Trusted by Single Dispensaries to Multi-State Operators
We've earned the trust of many successful companies and we look forward to earning yours.
Help
Want to know more about Hytiva's Business Services
Our popular service FAQs are a great resource for finding answers to your questions about our products and services.
Do you have to purchase all services or can I choose what I need?

Hytiva's Suite of Cannabis Services work best together. However, you are welcome to choose the services you need individually as well.


How much does each service cost?

The cost of each service varies, but most services have a way to get started for free. Please contact us to Request a Demo and ask us about any services you like.