A Point of Sale Customized For Your Dispensary
Hytiva's Point of Sale works with any device to sell your products behind the counter, on the sales floor, and anywhere your customers need you. We keep your focus on the customer by removing time draining tasks like manually entering lab data and re-entering the same product details over and over.
Up

Unmatched Performance

Our POS is constantly monitored with millions of items and <100 millisecond responses. Speed unmatched by ANY POS vendor.

Check

Easy to Use

Answer customer questions and complete their order on one screen. Beautiful receipts and labels are printed automatically.

Wrench

Real Automation

Cloud printing, phone system integrations, and more are built-in. No third party accounts and bills just to print a receipt or deliver an order.

Filter

Tailored to You

Choose the inventory model, customer flow, automations, and hardware that suit you. Want something new? We are here to help!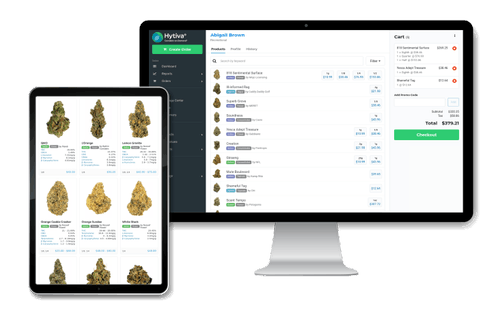 Point of Sale
A POS That Does More For You
Hytiva's POS does much more than meet the requirements to run your dispensary. We challenged ourselves to provide ground-breaking features that don't exist in other systems and put in the work to make those features seamless. Beyond the attention to detail we put into making the basic operations fast and a joy for your staff to use, we use automation to remove work, AI to assist you, and computer vision to keep you in the know.
What you Need, Not What is Easy
A modern dispensary requires communication, delivery, advanced promotions, and complex inventory as core features. A complete phone and text system, proven cannabis logistics technology, rule-based promotions system, and inventory built for massive scale are all standard. No shortcuts taken here.
Intelligence Beyond the Buzzwords
Our team understands that you want real help and innovation, not a gimmick. Advanced scanning, automated texting & phone calls, watching curbside spots for arrivals, document verification, and customer intelligence are just some of the ways we put the newest tech into your business.
Seamless Integrations
We openly integrate with any vendor or technology to assist you and put the work in to make them natural. Don't accept bugs in your rewards integration, separate logins for "back of house" information, or repeatedly clicking a button because of state tracking integration failures.
Hardware
Bring Your Own Hardware or Use Ours
Like your existing hardware or have something new you'd like to try? Chances are we support it already, but we are happy to integrate new hardware too! Because Hytiva has full control of its technology stack, we can do more than other vendors with your printers, scanners, cameras, phones, tablets, and share amazing new devices with you.
Help
Still curious about Hytiva POS?
Review the common questions below or meet with us to get all your questions answered.
Can we get rid of manual data entry?

Hytiva eliminates the need for manual, repetitive data entry everywhere possible. Advanced integrations, scanning technology for lab data, machine learning based autocompletion, and Hytiva's massive library of strains are just a few examples of how we accomplish this. In today's modern age, let us automate the repetitive tasks to reduce your staff requirements and allow them to focus on running your business successfully. Request a Demo to see it for yourself.


How much does it cost?

We have some fantastic deals to get you started and beat the pricing you pay for your existing POS. We'll even set a time period with you to tailor your POS to your needs and import your current POS data for a smooth launch day with all your existing data where possible. Request a Demo or email us at partners@hytiva.com to learn more.


What is the Process and How do I get started?

Simply Request a Demo or email us at partners@hytiva.com to learn more. We have a wide range of offers to get you started with our service and make your transition to our POS smoothly while saving you time and money.


How does Integration work?

Integration is the process of getting two applications to exchange information or communicate to achieve a goal. Examples include importing your current POS data into our POS for making the switch, synchronizing inventory to an online menu, and pushing ordering information to a state compliance system. Normally, your role in an integration as a cannabis business is requesting API keys and documentation or making accounts for one vendor to communicate with the other. We go a bit farther than the vendors you've dealt with before and work hard to make the integrations you need seamless in our POS. We've even helped many vendors improve their integrations to provide more functionality within our system.


We welcome you to Request a Demo or email us at partners@hytiva.com to learn more.


How long does it take to get setup?

Basic set up happens very quickly. Most businesses extend the time to switch their POS for staff training, making use of our tailored point of sale features, and allowing Hytiva to import their existing POS data to make the change as seamless as possible. Continuing training for your staff may take a bit longer based on their availability. We can help train your team remotely too! Simply Request a Demo or email us at partners@hytiva.com to learn more.


Can I use an iPad with Hytiva's Point Of Sale?

Yes, Hytiva's POS is compatible with all mobile devices and some features encourage the use of these devices for staff on the sales floor or moving around your stores. Request a Demo or email us at partners@hytiva.com to learn more.


Does the Hytiva Point Of Sale come with Hardware?

We can provide all the hardware required to get you up and running or you can bring your own hardware. Depending on your needs, we'll even help you pick and choose hardware based on the benefits each has specific to your operations. We are happy to support any usable hardware you choose and may even show you possibilities you didn't even know existed.


What is a Point Of Sale? (POS)

The Point of Sale (POS) by most standard definitions includes the cash register that you use to checkout your customers and the primary system you use to record your final sales. Put simply, the POS is where you pay and receive your product with a receipt.


Hytiva's point of sale extends this definition with tailored functionality that can include checking out customers via tablets and other services with receipts automatically printing anywhere. This greatly increases the ways in which you can serve customers and make your business stand out.


Simply Request a Demo or email us at partners@hytiva.com to learn more.