Drive Revenue and Customers with
Hytiva Delivery Tech and Driver Apps
Use the same technology we use every day for the largest cannabis delivery services in the world. We've proven that delivery grows revenue, increases order values, and improves customer retention for clients of all sizes. We're offering a path to success and solutions that grow with you.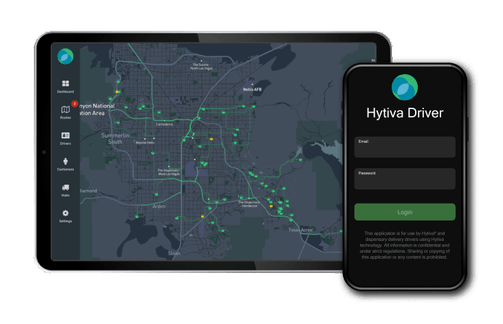 Delivery
Cannabis Delivery that takes you seriously
Hytiva® provides delivery technology and even drivers for small stores to the largest MSOs. We are accountable every day to the strictest compliance standards and there for you in ways those messy integrations and generic logistics companies won't be.
Communication at Scale
Your staff, drivers, customers, and Hytiva's automated messaging system all communicate on a custom phone number just for your store. We even route calls to your delivery line and automate calling prompts to suit your needs.
Built for Cannabis
Our flexible cannabis compliance system supports carry limits, full driver and vehicle information, ID verification, integrations with state systems and more. Complete audit timelines on every order make it easy.
Your Business, Your Way
Use your own staff, contracted driver pools, or even Hytiva drivers in select areas. Hytiva® supports any combination of business model while ensuring you see all communications with the customer and your compliance efforts are supported.
Everything You Need for Success
We provide the mobile applications for drivers, and one sign in for your team to manage orders, dispatch drivers, and communicate with everyone, all while syncing orders with your POS automatically.
Help
Want to know more about Hytiva's Delivery Services
Review the FAQs below and reach out to .
How much does it cost?

Our delivery technology and services pricing may vary depending on the area and compliance resources required, but Hytiva only makes money after you do because we do not invoice until after your deliveries are complete.


What does Cannabis Compliant Mean?

Delivering Cannabis in most areas requires additional regulations to be satisfied, often including carry limits, auditing, and other conditions from your state or regulatory institutions. Hytiva prides itself as being one of the only state compliant delivery services in Nevada and Arizona.


*Please note cannabis compliance will vary state to state and Hytiva includes compliance features for you at no additional charge to match your state where possible.


Can I do my own Deliveries?

Yes! Hytiva's delivery solutions are at your disposal from online ordering, dispatching drivers, tracking, driver mobile apps, and more. We welcome you to Request a Demo or email us at partners@hytiva.com to learn more.


How does Hytiva's Physical Delivery Work?

In select areas, Hytiva does offer hands-off delivery services where we handle it all from the customer placing the order, picking it up, transporting it, delivering with documentation and cashing out on each route. This services uses all of our delivery and online ordering integrations and is one way we prove the value of our technology solutions above and beyond any other vendor. We welcome you to Request a Demo or email us at partners@hytiva.com to learn more.


Are Vehicles Inspected?

Yes, all of Hytiva's delivery vehicles are fully inspected, though each state or area has different guidelines. Hytiva goes above and beyond to surpass most guidelines and we welcome you to Schedule a Call or email us at partners@hytiva.com to learn more.


How long does delivery take to get setup?

72 Hours or less for online. 5 days for physical for existing clients. Note: Due to supply chain in the automotive industry, Hytiva is purchasing cars on a weekly basis nationwide and supply is extremely limited. We will keep you posted as the supply chain opens up giving us the ability to purchase fleets of cars. Schedule a Call or email us at partners@hytiva.com to learn more.