Geladough
THC: 24.07%
CBD: 0.06%
Nighttime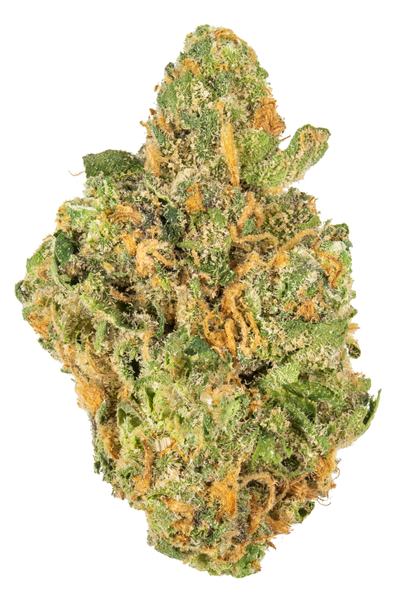 ---
Taste & Smell
Effects
Pairs Well With
About this Hybrid Strain
With an aroma that mimics a Jelly Donut, the Geladough strain is a hybrid powerhouse, full of flavor, THC, and euphoric effects.
We saw Geladough testing at 24 percent THC, making it a psychoactive, heady strain that many recommended for those looking to escape reality for a while. Users described this evenly balanced strain beginning in the mind, with a euphoric uplift that left them spacey and stress-free. This euphoria is slowly followed by a deep physical relaxation that many report left them free of tension and chronic pain. They warned that over-consumption could lead to sedation or couch-lock, so consuming Geladough in smaller and more controlled doses is suggested.
When cultivated just right, Geladough buds are saturated with snowy white trichomes and bright orange pistils. These buds are predominantly forest green with hues of purple. This strain emits a grape jelly and doughy aroma, laced with cedar and spice. When combusted, its flavor is citrusy, with a rich earthy and vanilla undertone.
The dominant terpenes in Geladough include Limonene, Beta-Caryophyllene, and Myrcene. Have some healthy snacks nearby because many reported an increase in appetite, making many recommend this excellent strain for those suffering from nausea and eating disorders.
Lab Data
Cannabinoid Lab Data

| Cannabinoid | Amount |
| --- | --- |
| THC: | 24.07% |
| CBD: | 0.06% |
| CBG: | 0.18% |
| CBG-A: | 0.98% |
Terpene Lab Data

| Terpene | Amount |
| --- | --- |
| Limonene: | 0.55% |
| Beta Caryophyllene: | 0.50% |
| Beta Myrcene: | 0.42% |
| Linalool: | 0.330% |
| Alpha Humulene: | 0.130% |
---
Genetic Lineage
---
Frequently Asked Questions About Geladough
What is Geladough?

Geladough is a euphoric hybrid that is described as producing a psychoactive and heady high.


Where does Geladough come from?

At the time of our review, the lineage of Geladough is unknown.


What does Geladough smell like?

Breaking apart the buds of Geladough releases a jelly doughnut essence, laced with cedar and spice.


What Geladough taste like?

The flavor of Geladough is citrusy, with notes of earth and vanilla.


What color does Geladough have?

The buds of Geladough have hues of forest and lime green that are coated in white trichomes and orange pistils.


What effects does Geladough have?

The effects of Geladough have been described as psychoactive and euphoric, with a relaxing and appetite-inducing come down.


Is Geladough an Indica, Sativa or Hybrid?

Geladough is a hybrid cannabis strain.

---