in
Sex
The Pros and Cons of Sex while High on Cannabis
Don't worry, the pros outweigh the cons.
Posted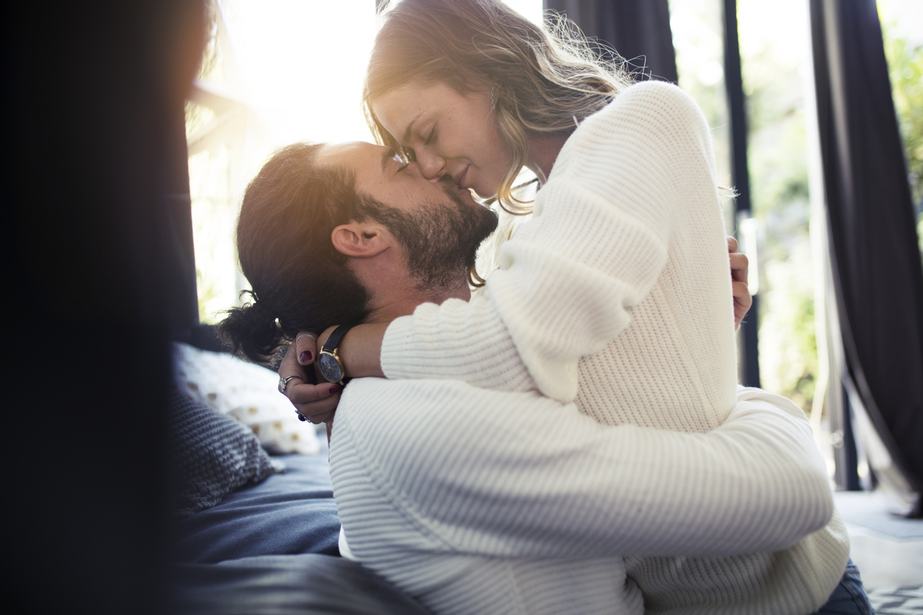 With the vast selection of fun new things to try in the bedroom, why give consuming cannabis beforehand a try? Because the pros outweigh the cons and you might be thanking your budtender in the morning.
Scientifically, there's not enough research on cannabis to make any conclusion about how it can either improve or daunt a sexual experience. There are surveys and outdated experiments here and there, but nothing making hard conclusions. However, testimonials of today exist that confirm popular beliefs, along with some not-well-known ones, both good and bad.
And that's where your modern cannabis sexploration beings.
Pros of Sex while High on Cannabis
Relax. Breathe. Enjoy your muscles softening and your thoughts focusing. If this sounds desirable to you, perhaps an indica strain could help improve your sex. Indica varieties have been reported to calm, relax, and physically prepare the body for a round of play. They have the ability to alleviate pains and aches, relax the muscles and nerves, and keep the mind calm as complex thoughts that could ruin the moment dissipate.
Wild. Energized. Set your mind in a state of experimentation. If this sounds desirable to you, perhaps it's a sativa strain you're searching for. The effects of sativas have been reported to increase energy and improve creativity - so the extra stamina and inspiration is sure to impress your mate. Many artists and musicians enjoy using sativas because they get more inventive work in while maintaining a high level of inspiration or energy. The same could be said of sativas used for sexual experiences. Shyness dispels and the need to try something new will seize the moment – all with an energy-boost.
Lust. Desire. Feel the heat spread. If you're looking for a way to jump-start your libido, some strains have been reviewed as perfect for such a feat - and even named after it. Ever heard of the strains "Sexxpot" or "Sex Candy" or "Lube Job" or "Canna Sutra"? Then you're familiar with strains that offer the consumer a rush of arousal. The same can be said of other strains such as Grand Daddy Purple or Space Queen - but honestly, it just depends on how the strain personally affects you. Start your sexploration with one that's been found by reviewers to improve libido, then sexplore some more with other similar strains until you find just the right one. (Read More: Sex was Different After Smoking Grand Daddy Purple)
Sensual. Orgasmic. Allow your primal senses to take over. If you indulge in foreplay and want to improve sensitivity and passion, some strains have been reported to do so. When it comes to sex, the altered state of mind and body could cause one to become exceedingly sensitive to touch. A good way to test whether senses are heightened after consuming cannabis is to receive a massage. If it feels more spectacular than normal, chances are it'll feel more spectacular than normal between your legs, too. (Explore More: Heightening Pleasure Using THC & CBD Infused Lubricants)
Fun. Free. If you're in a in a relationship and have never laughed or been silly while having sex, I highly suggest you try it. Some strains have been reported to improve social interaction and onset the giggles - this could make way for some great sex filled with freedom and fun. Laughing releases endorphins and contracts muscles... Sex also releases endorphins. You'll be high off of cannabis, silliness, and orgasms by the end of the night.
Time escapes you. Our perception of time can change when we're high or stoned. A study done in 2012 found that 70% of those surveyed reported over-estimation of time after consuming. Why is this good for sex? I want to know why it Wouldn't be good for sex. Go for hours until you both are exhausted and satisfied, then realize you actually finished right before the new episode of Vikings. Score. Twice.
(Learn on: Indica vs Sativa Infographic)
Cons of Sexploration on Cannabis (And some fixes!)
Cottonmouth and Dryness. Cannabis obviously has the ability to dry up mucous membranes - thus the term "cottonmouth" used loosely in the cannabis community. However, it could also affect the mucous membranes found in the vagina. This is a sad day for ladies – but this can easily be fixed with all-natural coconut oil, lubricant, or even cannabis-infused lubricant.
Forgetfulness. Some strains have been reported to cause short-term memory loss. This usually isn't such a horrible thing, but when it comes to sex, it could suck - and not in a good way. Where's the condoms? Did we buy lube? Where's the handcuffs? Where's the key to the handcuffs? Yikes. It's okay though, this is simple to solve. Prep everything before consuming, of course!
Possible male "dysfunction"... While more research is needed to confirm this theory, there are some accounts of men claiming cannabis made it difficult to get it up. It all simply depends on the strain, the man's body chemistry, and the serving size taken. (Learn More: Weed vs Male Sexual Performance). Try changing how much is consumed - or try a completely different type of strain with differing cannabinoid and/or terpene ratios.
Sedation. Some strains, specifically indicas, can sometimes lead to sleepiness which wouldn't be good for a sexual encounter. Not unless your partner is okay with doing all the "work".
See? It's easy to tell that cannabis before sex could produce an array of interesting new experiences - with pros easily outweighing the cons. Have fun with your cannabis sexploration and be sure to share your experiences in the comments below!
Comments