in
Culture
Four Ways Cannabis can Help Manifest your 2020 Resolutions
Cannabis can help you achieve goals, along with treating symptoms.
Posted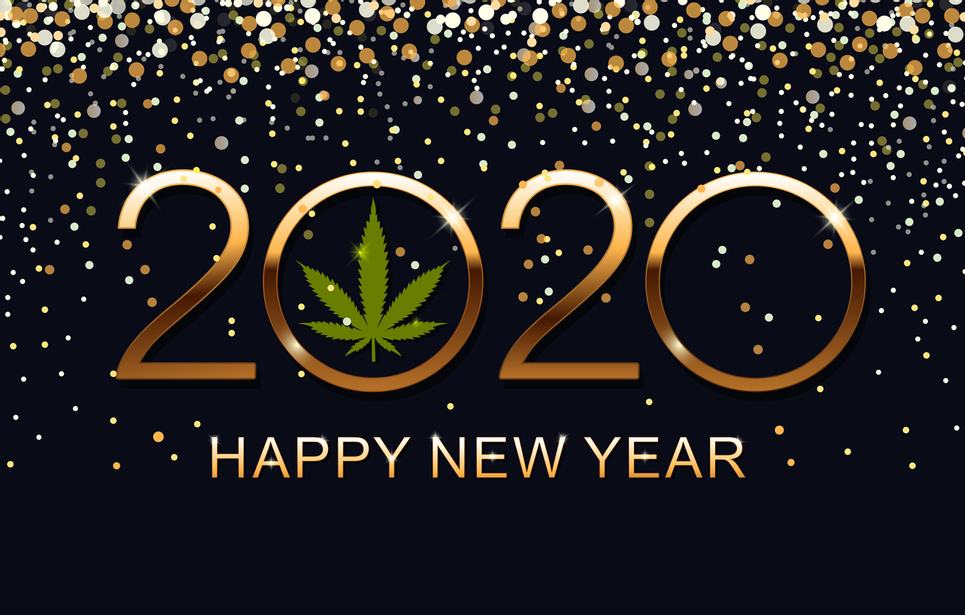 Every New Year the world comes together to transition. A wave of celebrations ripple across the Earth as humans indulge in the escape a fresh year offers us. Among them are cannabis consumers, and some of them not only use cannabis in their festivities, but for accomplishing their 2020 resolutions.
How can cannabis help me achieve my resolutions?
Have you ever heard of someone consuming cannabis and commenting how they enjoyed working out more than usual, meditated more effectively/with better visualization, or perhaps zoned in on work and got an incredible amount done in a short span of time? If you haven't, then perhaps it's time to expand your paradigm.
Among an assortment of medical conditions states allow cannabis to treat, cannabis has been found to improve various facets of a person's experience. It's an incredibly versatile plant, and when you're able to pinpoint the right strain for the right occasion, you may find that both body and mind can be better persuaded to enjoy the moment at hand.
How do I improve my financial life with cannabis?
We make money venturing into the unknown, creating services and products that help others. When we want to improve the amount of money we make, we have to improve the value creation we provide for others. Cannabis might improve a person's value creation in four ways:
A stimulating strain that enhances energy or focus could help in overall production. Some cannabis consumers have claimed they've gotten more work done in less time because they zoned in on the task set before them.

A relaxing strain that pulls tension out of joints and muscles could help in taking the mind off any pain the body was feeling – resulting in less distractions.

A calming strain that allows the mind to wander freely could help in brainstorming regarding finances or work.

Then there's always joining the newest industry in the U.S. – the cannabis industry. It branches into so many other industries that you are bound to find a job you love or create a business you adore. This industry is growing, and perhaps you could put your foot through the door. (See our article: Study at a Cannabis College and Receive a Higher Education.)
How do I improve my social life with cannabis?
Humans are social animals - we are always interested in finding inspiring company. Whether we like to keep ourselves surrounded with a big group of family and friends or a minute amount, a great conversation or outing with like-minded humans is always welcome. Here are a few ways cannabis can help you enhance your social life:
Meeting other cannabis consumers at cannabis events near you.

A strain that creates a calming effect in the mind could lessen social anxiety. This would make striking up conversations easier, more fun, and far more creative out in public. (See our article: Top Four Cannabis Strains for Vaporizing Social Anxiety.)

A strain that improves your cerebral activity could help you in connecting with a certain someone, either by assisting you in thinking deeper in conversation or simply understanding the other more clearly.

A stimulating strain could improve energy; liveliness making a social outing more appealing and filled with possibility.
How do I improve my spirituality with cannabis?
As you may have heard or read, cannabis has been used in a variety of ancient civilizations we're finding. It's uses are vast, but one of its more intriguing uses has been for connecting to a divine realm. Whether you believe in a God, Goddess, Gods and Goddesses, or simply divine energy, you could benefit spiritually from cannabis use.
Prayer and meditation. Try a strain that relaxes both body and mind, while keeping the mind open. Then go about your daily prayers, meditations, or rituals and see if you connect more deeply in your practice.

Yoga. Try a strain that opens your mind while allowing the body's muscles to relax yet remain energized. Yoga has been claimed by many consumers to be far more enjoyable after consuming such a strain. This concept can also be applied to other spiritual activities. (See our article: My Experience trying Cannabis before a Gong Bath.)

A nature walk. If you've never consumed cannabis while going on a walk in nature, I highly suggest it. Ensure the environment's safe for your level of fitness, find a companion, and head into the trees – or mountains – or desert. Perhaps it's just the local trail near your home. Whatever the case, it can be a beautiful experience where you can reconnect with nature and satisfy your spiritual awakening.
How do I improve my health with cannabis?
As I've said, there's a great deal of medical conditions cannabis has been seen treating. Beyond treating a condition specific to your ailment, disease, or condition, cannabis might be able to help even the healthiest of us.
Cannabis can relax the muscles pre or post-workout. Some strains cause the body to fully relax without lethargy – these can be great before a workout. Those that relax muscles while creating lethargy are good post-workout, so you can even end up falling asleep easily despite just working out (if you workout in the evening). (See our article: 9 Best Cannabis Strains for Post-Workout Tension Relief.)

Cannabis could make cardio more inviting. Whether you're running three straight miles or plan on doing some HIIT exercises, a strain that invokes energetic motivation or inspiration in you – or simply one that seemingly enhances the music you workout to – could vastly improve your enjoyment and results. (Remember – some strains increase heart rate.)

You don't have to get high to benefit from cannabis. Its seeds are packed with nutrients that the human body needs – fatty acids, vitamins, and minerals that can keep our equilibrium properly maintained.

Mental health. Simply de-stressing after a long day of work safely in the comforts of your home before bed with a bit of cannabis could improve the manner in which you view the world while inducing better sleep.
I can certainly say the cannabis industry has been helping me financially and spiritually since its doors opened in Colorado in 2014. If you're a cannabis consumer or admirer, what are some of the ways cannabis has helped improve your life? In what ways do you see yourself accomplishing a resolution this year with the help of cannabis? Share your experience in the comments below.
Comments