Black Tuna
THC: 15%
CBD: <1%
Nighttime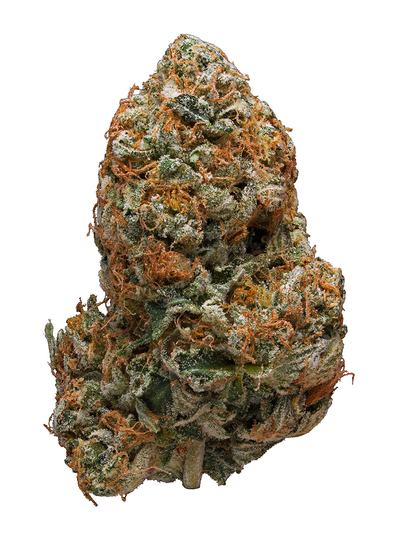 ---
Taste & Smell
Effects
Pairs Well With
About this Sativa Strain
The smell is definitely a skunky funk with some earthy undertones. Nugs are fluffy and large, with darkly shaded colas that feature a good amount of purple calyxes.
THC levels tend to turn up around 15%, but the rich terpene profile that comes with this strain confers its heavy painkilling effects. The high that accompanies a sharp toke of these buds sets on within moments. Its heady effects are borderline narcotic, making this strain a favorite for reducing pain and inflammation. Muscle spasms, headaches, and cramps may also be relieved.
The couch-lock is strong with this one, so it's best for a session immediately after work or before hitting the sack. Other side effects from Black Tuna include cottonmouth, irritated eyes, and slight paranoia at higher doses.
Lab Data
Cannabinoid Lab Data

| Cannabinoid | Amount |
| --- | --- |
| THC: | 15% |
| CBD: | <1% |
History
This cultivar comes from Canada's 5 Star Organic, and its parents are none other than Herijuana and Lamb's Bread, two strains known for being insanely potent.
---
Genetic Lineage
---
Frequently Asked Questions About Black Tuna
What is Black Tuna?

Black Tuna is a cannabis strain that is known for its high THC content and sedative effects.


Where does Black Tuna come from?

Black Tuna is a hybrid strain that was created by crossing Blackberry and Tuna Kush.


What does Black Tuna smell like?

Black Tuna has a strong, pungent aroma that is often described as earthy, skunky, and musky.


What does Black Tuna taste like?

Black Tuna has a complex taste that combines the earthy, skunky notes of its aroma with a hint of sweetness and a subtle piney flavor.


What color does Black Tuna have?

Black Tuna typically has a dark green color with purple hues and a thick layer of trichomes.


What effects does Black Tuna have?

Black Tuna is known to produce a relaxing, sedative high that can help to alleviate stress, anxiety, and pain. It may also promote sleep and relaxation.


Is Black Tuna an Indica, Sativa or Hybrid?

Black Tuna is a balanced hybrid strain.

---