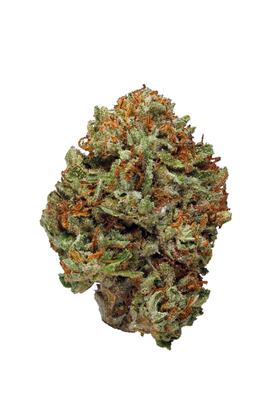 ---
Taste & Smell
Effects
Pairs Well With
About this Hybrid Strain
Prepare to get ripped! This indica-dominant cannabis plant (60% indica/40% sativa) is also known as "Ripped Bubba Kush," and its flowers are cone-shaped, tight, and largely symmetrical, with green and bluish calyxes and a thick fuzzy blanket of trichomes. The scent coming off these buds resembles sour berries and lemon juice, but when burned it tastes like charred hash and cherries.
This strain will bring a sense of ease and calm to the mind, but it truly excels in its body buzz. Ripped Bubba is recommended for neuropathic and nerve pain, as well as chronic pain disorders like fibromyalgia, multiple sclerosis, and arthritis. It is also known to stimulate hunger, so some suggest it may bring relief to those having digestive issues. This strain may be ideal for daytime or nighttime use.
Possible side effects from Ripped Bubba include cottonmouth and red eyes.
History
---
Lineage
---