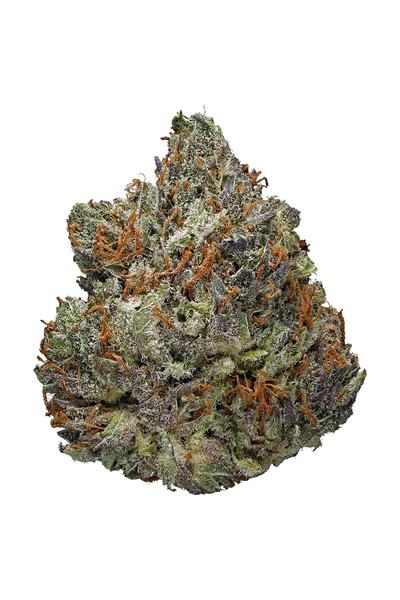 ---
Taste & Smell
Effects
Pairs Well With
About this Hybrid Strain
The cured nuggets of Purple Amnesia are small but dense, producing various shades of deep greens mixed with lighter tones. Its pistils are a shade of burnt amber and a light coating of trichomes covers its surface. Scent and flavor can be a bit tangy or citrusy, with hints of spices or pepper.
THC levels of Purple Amnesia range in the mid-teens to low-20's. This strain has been described by reviewers as producing a dreamy effect that leaves the mind carelessly wandering amid happy thoughts. Some have experienced a slight increase in focus while others zone in on creative tasks. Others enjoy it for a mellow sensation that spreads through their torso and limbs. Some consumers suggest that this strain is best used when you have time for leisure and no important tasks need to be undertaken.
---
Genetic Lineage
---
Frequently Asked Questions About Purple Amnesia
What is Purple Amnesia?

Purple Amnesia is a two time Cannabis Cup Winner and one of the most popular Sativa Hybrids from our friends across the pond in Amsterdam.


Where does Purple Amnesia come from?

Purple Amnesia is a cross of Amnesia Haze x Purple Ruderalis.


What does Purple Amnesia smell like?

Purple Amnesia has an unmistakable citrus scent that leans towards a lemony smell. It has subtle earth tones and has a pleasant gentle aroma.


What does Purple Amnesia taste like?

Purple Amnesia is a smooth strain and has a composition of flavor you can taste over and over which will give you more and more insight. Most notably is its citrus and lemony flavor, but upon further discovery a more creamy, dense and nutty flavor comes out.


What color does Purple Amnesia have?

Purple Amnesia is recognizable by its pale green and light purple accented buds. Its has subtle red pistils and amber toned trichomes.


What effects does Purple Amnesia have?

Reviewers have said that Purple Amnesia, being a Sativa dominant strain first brings a lightness to their mood. It first brings people peace and happiness and can be more of a social strain. However, having Haze origins, the longer effects of body and mind relaxation will take over and you might want to retire for the night. Others have noted it as a great afternoon strain.


Is Purple Amnesia an Indica, Sativa or Hybrid?

Purple Amnesia is a Sativa Dominant Hybrid.

---