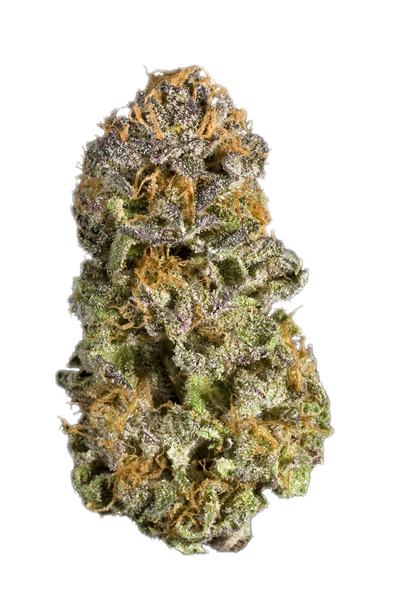 ---
Taste & Smell
Effects
Pairs Well With
About this Hybrid Strain
The Blues cannabis strain is a hybrid bearing strong sativa characteristics as reviewers have expressed. They've said they felt energized mentally as creativity was unleashed. Some enjoyed deep conversations and social events while a few, on the other hand, claim that this Blues strain helped cure the blues in the bedroom. That is to say that it helped them with arousal.
Not only is this strain sought after by connoisseurs for its effects, but the pungent aroma of it draws people in. It emits sweet scents of berries but be warned, its flavor isn't quite the same. On the exhale, you'll taste a sour skunkiness that's closer to rotting berries. Despite this, reviewers say it's a smooth toke from start to finish. Blues THC levels tend to only reach the mid-teens.
When you see the leafy green and dark blue nugs of Blues, your eyes are in for a treat. Deep blues and purples are prevalent, giving it a delicious cotton candy appeal. Orange pistils accentuate the juxtaposition of colors while a white trichome frost covers the plant.
And by the way, you should also know that Blues weed is sometimes referred to as "Livers" in certain areas of the country.
---
Genetic Lineage
---
Frequently Asked Questions About Blues
What is Blues?

Blues is a sativa dominant hybrid.


Where does Blues come from?

Blues is speculated to be a phenotype of the infamous Skunk #1 strain.


What does Blues smell like?

Blues smells of pungent skunk with undertones of sweeter fruit and pepper.


What does Blues taste like?

Blues tastes like it smells. Its flavor is dank and skunk with subtle sweet fruit flavors that finish with a mild spice.


What color does Blues have?

Blues has fluffy and chunky light green buds that have purple highlights. Its pistils are pale orange and the buds are caked in a thick frosting of white trichomes.


What effects does Blues have?

Blues has been described to have strong sativa effects that are super stimulating to the mind. Many say they feel a rush of creative energy while others say they feel more social and prepared for deep, speculative conversations. Some have noted that this stimulation has a positive effect in the body with getting the mood right and blood flow circulating.


Is Blues an Indica, Sativa or Hybrid?

Blues is a sativa dominant hybrid.

---