10 Free Vegas Shows & Entertainment for the Wandering Stoner
Just in case you decided to invest more in vacation cannabis.
Posted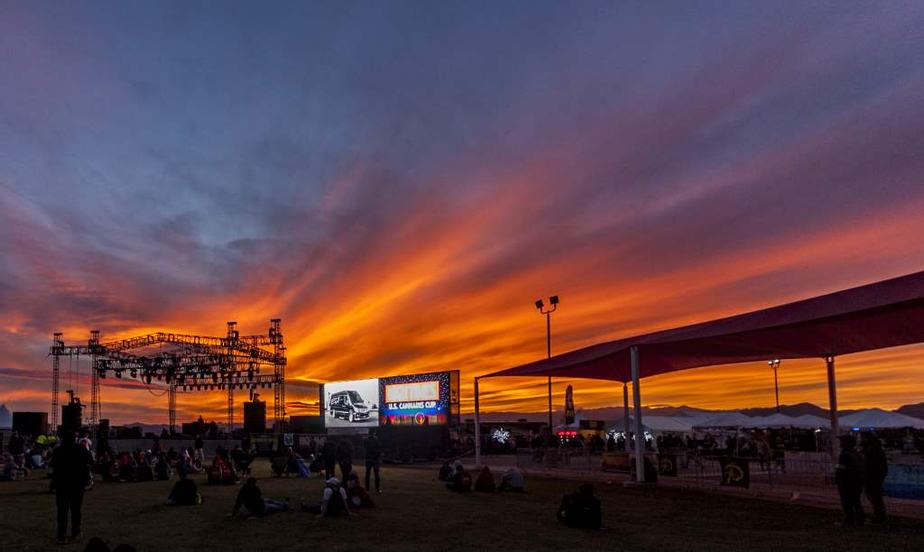 Sin City offers a bountiful feast of amusement and pleasurable pursuits, usually with a price tag and time limit. However, for the wandering stoner in us all that wants a night or day of unplanned happenings, these little shows and events in the city will put a smile on your face after finishing a blunt or infused meal with your travel buddies.
Discover More: Super Silver Haze vs Hawaiian for Partying in Vegas
10 Free Shows & Entertainment in Vegas


Open 24/7 just off the front desk of the Bellagio, the Conservatory & Botanical Gardens feature breathtaking displays of flowers and shrubberies year-round. A specialized staff changes the displays with the coming of the seasons - winter, autumn, summer, and spring all having their very own exhibition of floral art for visitors to snap pics in and enjoy. This free garden is 14,000 square feet, so prepare to be amazed.
Colorful lights, waterfalls & fountains, immense screens depicting underwater scenery, large flames, and moving statues consist of this roughly 10 minute performance. Located in Caesars Palace Forum Shops, anyone can view the free show while taking a stroll through the stunning shops with architecture reminiscent of Rome. While it might be seemingly cheesy for adults, a few puffs of the right greenery will have you either immersed into the imaginative show or containing a multitude of giggles with your travel buddy.
If seemingly window shopping in the canals of Venice isn't satisfying enough, then perhaps free performances from opera singers, jugglers, actors, dancers, musicians, stilt walkers, and living statues will make the experience more enjoyable. They're there for your entertainment and can be found roaming and performing through the Shoppes throughout the day.
Fremont Street features an immense overhead display that creates a visual spectacle every hour once the sun goes down. Shops line the street on both sides, and a zipline called SlotZilla allows the brave to fly above the heads of shoppers and beneath the overhead lights (unfortunately, SlotZilla does cost money). There's even live music if you catch this experience on the right night.
At the Cosmopolitan, the permanent installation of art free for the public to view is called Wallworks. Other art collections are also featured(Such as the Talon Club Collection, The Golden Age of Glam, etc.) along with every-changing exhibits of artists from across the globe. Each piece will intrigue and inspire the imagination – so if planning on consuming a sativa that increases creativity, don't forget to check out all the art at the Cosmopolitan while doing so.


This curbside attraction in the front of the Mirage offers viewers a spectacular fire show synced with a tribal soundtrack. It fires up at 8 & 9 PM during the weekdays, with an additional show at 10 PM on weekends. Though it only lasts about five minutes, it's the perfect start to a heated & exciting night in Vegas.
They're a spectacular, iconic sight, synced to popular opera, classical, Broadway, and pop songs accompanied with lighting that invokes awe and intrigue. These gorgeous fountains put on a performance Mon-Fri every half hour from 3-8PM and every 15 minutes from 8-12PM. On Saturdays, they begin at 12 noon and on Sundays, at 11AM.
While lovely to walk through during the day, a night walk at The Park (an MGM Resorts Entertainment Destination) features colorful lighting pointed at immense art and architectural structures. The beautiful trees and plants will reconnect you to nature in Sin City while mini waterfalls keep the sound of soothing water at your ear. There's always a free Park Party on Tuesdays, featuring free live music and cheap(ish) wine and beer at $5 a pop.
Featuring exotic birds, fish, and turtles, this habitat is free to the public and perfect for an afternoon stroll. Beautiful foliage and sparkling waters will have you feeling relaxed, especially with an indica-leaning hybrid, while enjoying a bit of nature's beauty buried in Sin City.


Beginning at 11:00AM every day, you can witness free circus acts at the Circus Circus casino and resort. Performers from across the world entertain you from the ring, engaging in daring acts of bravery and skill. If you want to feel like a kid again, the bright & exciting atmosphere (not to mention the rides – but those cost money) at the Circus Circus is an experience worthy of your time – especially if you're feeling extra happy or giggly after consuming some greenery.
Discover More: 7 Tips for Relishing Las Vegas as Budget-Savvy Stoners