10 Gift Ideas for Moms that Love Cannabis
Besides buying her a half of her favorite strain, of course.
Posted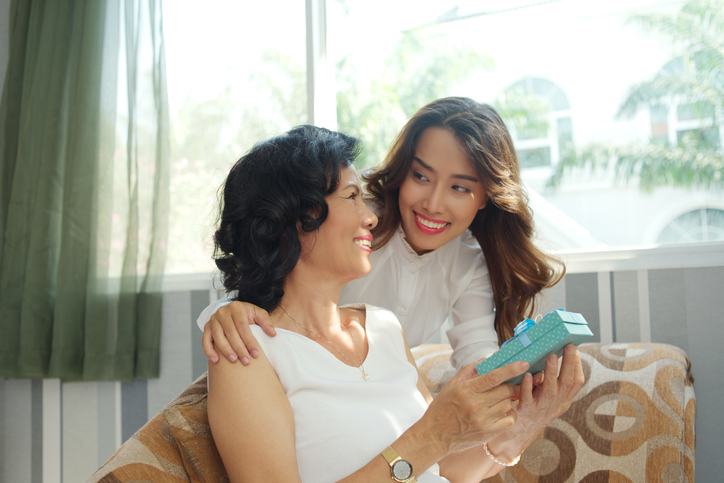 Whether your mama takes cannabis for medical or recreational purposes, it'd be too obvious for you to buy her a new pipe, bong, or vape pen on Mother's Day. These gift ideas go beyond conventional, and will have your mom dubbing you favorite child of them all.

1. Design a cannabis bouquet. Most moms love receiving flowers on Mother's Day - but have you ever seen a bouquet of flowers mixed with cannabis buds, leaves, and greens? In some legalized states, you can successfully find a cannabis business that crafts such bouquets. However, it isn't exactly a mainstream business as of yet, so making your own crafty bouquets filled with cannabis leaves, buds, and products will surely delight her. Stick a few infused suckers in there too if she likes sweets.

Discover More: Smokable Bouquets, Boutonnieres & Centerpieces

2. Create a topical spa basket. I'm sure you've seen those bath and spa baskets that have soaps, bath salts, lotions, massage oils, face masks, etc. all bundled up together in one gift. Create your own using CBD-infused products! They're known to help reduce pain and inflammation, so if you've got a hard working mom that encounters aches and pains, this would be a great gift to sooth the muscles and joints in her body.

3. Cook infused food for her. Just think of all the time she took cooking up meals for the family when you were a kid. Return the favor by cooking her an infused lunch, dinner, snack, side, or dessert. We've got several amazing cooking recipes that can get you started from Jalapenjuana Poppers to Bananabis Bread to Infused Fettucine Alfredo...

4. Find her a fancy rolling board. If your mom enjoys smoking cannabis in a joint, you can find various rolling boards for sale ranging from functional to retro to whimsy. If she likes classy and functional, RollaBoard sells 100% bamboo rolling boards that make a choice gift for mom.

5. Get her cottonmouth candies. Yes, it's a problem most smokers and vapers face daily. Cottonmouth. And constantly drinking water or Gatorade gets old. Luckily, Kosher, sugarless, gluten-free, fat-free Cotton Mouth Candy exists, and you can easily purchase it here on Amazon.

6. Grab her some THC molecule jewelry. Have you seen the THC molecule necklaces found on Amazon? What about the earrings? If your mom enjoys flaunting her love for the plant in a semi-discreet way, the THC molecule is better than having marijuana leaves that are obvious and sometimes inappropriate in certain public places.

7. Find the right cannabis cook book for her. If she's into learning new recipes and making her own edibles, it's high time she get her very own cannabis cook book. You can find various ones ranging from comfort foods to health craze foods, desserts to sides. Whatever she enjoys cooking most, grab a cookbook of infused recipes within that genre along with a block of infused butter (or oil, or sugar, or flour...) so she doesn't have to make it herself. Or better yet, make some infused butter yourself for her with our recipe found here.

8. Decide which designer cannabis handbag is right for her. Nowadays it isn't enough just to stow your stash in a baggie or in the container it was purchased in. You've got to take it with you in a fashionable handbag that's scent-proof - such as the ones sold by AnnaBis. For any mom that loves to stay in style, AnnaBis Odor Proof Bags are classy and made specifically for storing that stash.

Discover More: Scent-Concealing Luxury Handbags Making Way to Fashion Industry

9. Marijuana Leaf cookie cutters. Need I say more? Again - for a mom that enjoys time in the kitchen, you can grab her cookie cutters that are shaped like cannabis leaves. You can even find bundt cake molds and candy molds!

10. Check Etsy for unique, one-of-a-kind cannabis gifts. The artsy and crafty people of the world that enjoy making their products while high often sell their goods there, and you can find an entire section dubbed Stoner Gifts.