in
Cooking
Tips on How to Set Up A Successful Cannabis Bar
Host a memorable event serving strains to your guests.
Posted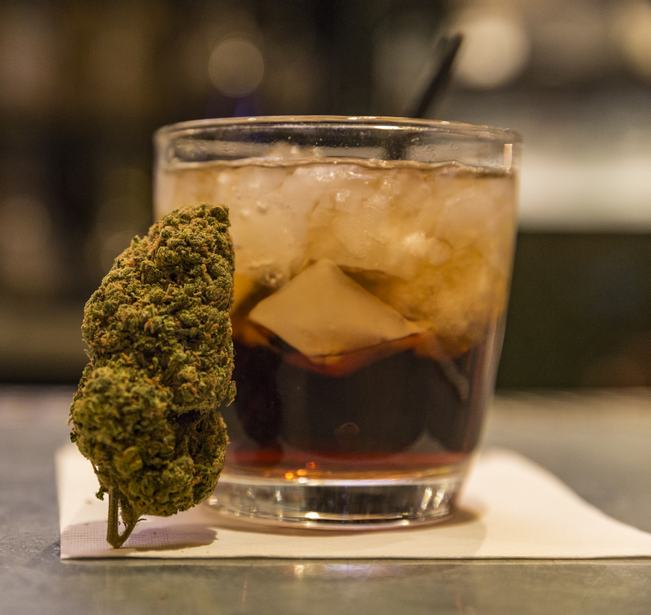 It's been decided: Cannabis will be available for your guests at your event, and you're excited to choose the strains to serve. Ensure the event runs smoothly by checking off these important tips ahead of time.

Hire a Professional Budtender to Serve the Cannabis
Find one (or as many as needed) located in the area of your event by asking for rates and checking availability. They're useful in answering guests' questions accurately and giving advice to the inexperienced. They can also help take care of anyone who happens to experience ill side-effects.

Offer a Sativa, Indica, & Hybrid
Every guest will desire a different effect, and mood can change depending on time of day along with strain of choice. Offer one of every type to cover all the bases. The more options your guests have, the more fun it will be for everyone as they experiment with the variety provided.
Learn More: Cannabis Converses - Indica vs Sativa (INFOGRAPHIC)

Provide Various Smoking Apparatuses
Depending on whether you choose to supply herb, shatter, wax, or oil, ensure your bar has the proper materials to consume the cannabis along with enough of them so guests won't have to wait to use them. If only serving herb, the easiest route to go is to provide mini blunts for guests sealed in glass jars and labeled so they can view what they're about to dive into.

Remember Excess Lighters & Cleaning Materials
The lighters are obvious, but have extra cleaning materials if planning to provide pipes/bongs/etc. that will be used by many. Small antibacterial/disinfectant wipes should do.

Include a Water Station
Dry mouth is a horrible thing to have at any social gathering - one of cannabis's downfalls. A water station will quench guests' thirst. Or, you can always place the cannabis bar next to the bar serving alcohol.

Wisely Choose Location of Bar
It can determine whether it's a main feature at the reception or a small area to the side where only a few guests decide to gather. If your audience is vastly accepting of cannabis, it can be a fun project to decorate the space it's in. If the audience is mostly non-consumers, a smaller tent/room/table can be placed away from the main celebration.
GO THE EXTRA MILE…

Provide an Edible for your Guests
Seasoned consumers will appreciate a good edible, and it can be a time to shine one's talents in the kitchen as a canna-chef. Cannabis caterers do exist, and can be found in recreational states.
Learn More: Hytiva Edible Guide

Include Premium Munchie Snacks
You can choose to have sweet, salty, sour/tangy, cold, hot, a specialized drink… The list goes on for munchie options. They can be personalized (such as initials on cookies or chocolate dipped strawberries) and add to the theme of your event, be it elegant, whimsical, glamorous, down-to-earth, etc.

Send Guests Home with their Very Own Clone
As a token of appreciation for attending your event, you can offer clones of the strains you provide. Guests can choose which one was their favorite and take it home (or you can simply offer only one strain to take home to make things easier on yourself). This takes excess planning, ensuring you've enough plants to make clones to go around for everyone.

Provide THC & CBD & Terpene Percentages/Info
Include signs or labels showing guests lab results for your strains' THC and CBD levels or even what terpenes are present. This information can be provided by a dispensary if purchasing your event's cannabis from one.
Learn More: Cannabis Lab Analysis Explained
Comments