Patios & Brews: 7 Las Vegas Bars with Excellent Outdoor Atmospheres
Enjoy drafts, fresh air, and views with your bros as spring's temps perfect.
Posted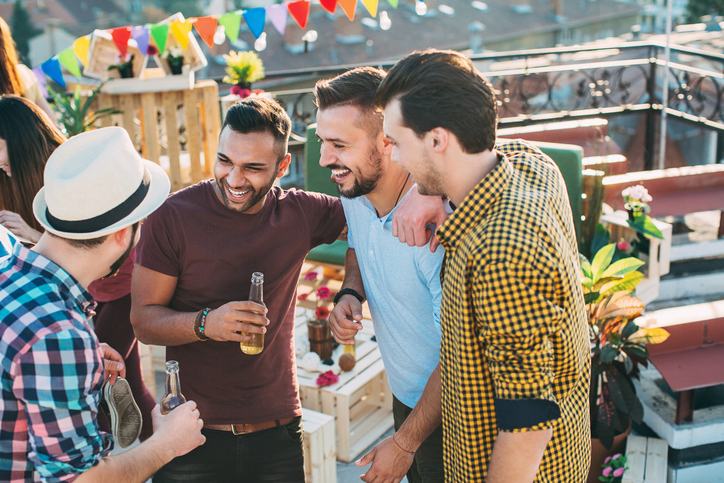 Experiencing the drafts of Las Vegas is must for any group of guys meandering the strip and looking for a good time. As spring rolls around, it's the perfect temperature between the too-chilly months of winter and scorching hot days of summer. Sin City might be in a desert, but by no means is it barren. It's time to lead your group of bros to the best places offering outdoor seating, delicious beers, plentiful views, and invigorating environments.
You might even get a few pulls on your vape pen if you're careful. But of course, keep in mind public cannabis consumption is frowned upon by authorities.

Great Patios & Tasty Brews
1. Beer Park @ Paris, Las Vegas
Choose from over 100 types and flavors of beer - 36 on tap. Enjoy a clear view of the Bellagio fountains. Play Jenga, Connect Four, Foosball, or Billiards while listening to live DJs. Watch sports on the immense HD screens. Eat some scrumptious barbecue to cure your munchies. It's a big backyard party at Beer Park, with plenty to do and see with your buds (pun intended).

Discover More: Hytiva: Now Delivering Rec; Voted a Top Cannabis Company by MyVegas
2. T-Bones Chophouse @ Red Rock Resort
An immense fire pit surrounded with flowing water, a spectacular view of the pool below, comfortable cushioned outdoor lounge seating, its own outdoor bar, and music from live performers inside. This space is perfect for views and sipping on a brew or cocktail before embarking on a nighttime LV adventure. Beside the Chophouse that serves from a mouth-watering menu, there are four other restaurants to choose from at Red Rock Resort if you're looking for a great meal too.
3. Beerhaus @ The Park
This location is a beer-drinker's gathering hot spot. The immense bricked patio gives patrons tons of room to move around and sit with friends, trees scattered between the modernized picnic tables. There's over 60 craft beers to choose from with two dozen on tap. Bar games are popular here just like at Beer Park, though Beerhaus has a Jenga Giant setup that'll surely draw attention to your group when it tumbles.
4. Umami Burger @ SLS Las Vegas
Open up to the strip, Umami Burger features a beer garden offering 52 different types of bottled beers, drafts, and 64-ounce towers. Watch events from 12 outdoor plasma TVs, play foosball, cornhole, or beer pong, and relish the night life as it walks by you and your gang.

Discover More: 20 Things to Try While Hytened in Las Vegas
5. Press @ Four Seasons
If your group would rather lounge in lavish sofa seating, strung lights, fire pits, and an ambiance that could seduce, the Press at Four Seasons offers such an atmosphere. Though here, you'll find more cocktails than beer - but the experience outside is more than charming.
6. B&B Burger & Grill @ Venetian
This casual but catchy location is placed right next to the waterway. You'll be able to sip on your brew while watching tourists in gondolas take selfies. Besides the long beer menu and delicious burgers served here, it's possible you may want to try the cherry milkshake that includes bourbon in its recipe.
7. Ghostbar @ Palms
Yes, this spot is more like a club, but it's on the 55th floor of the Ivory Tower and gives you an absolutely stunning view of the strip. VIP bottle packages start at $375 so you can enjoy fresh air, incredible views, interesting people, and tasty drinks without breaking the bank. As spring furthers into the warmer temps, Ghostbar will be teeming with gorgeous ladies - perfect for any guy's night that plans on partying until the sun rises.
8. PBR Rock Bar @ Planet Hollywood
To ride the mechanical bull before or after a tall one? The choice is yours - and you can make bets with your bros as to who can stay on the longest. Comfort foods are served here, so any munchies that may have developed after eating that edible or smoking that joint will easily be calmed here. The astroturf, picnic tables, and strung lights make it a comfortable home-like atmosphere perfect for stirring up conversations with both each other and strangers.

Discover More: 7 Tips for Relishing Las Vegas as Budget-Savvy Stoners