in
Culture
Moon Rocks, Sun Rocks & Their Reputations as 'World's Strongest Cannabis'
Even connoisseurs like Snoop Dogg have to be vigilant with these celestial nugs.
Posted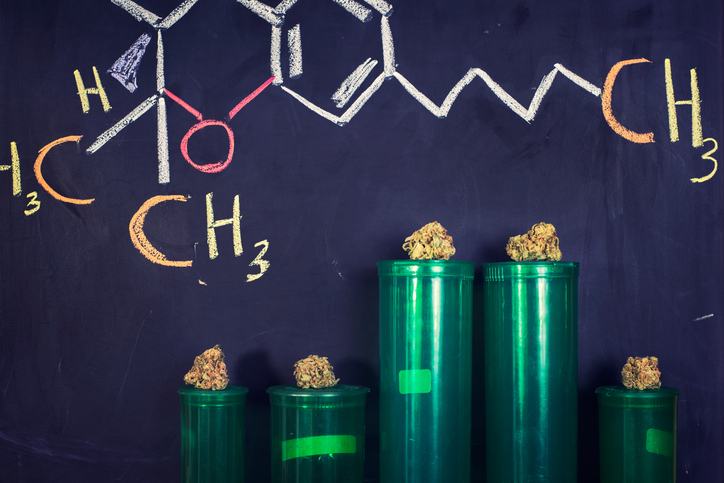 If you had to choose between a moon rock and a sun rock, which beckons to your soul? Both are a potent form of cannabis - not a strain, rather, an experiment gone completely right.
Imagine a nug of top-shelf cannabis, dipped in concentrate, then sprinkled with kief. Yup, that's what Moon Rocks and Sun Rocks are. The difference? Sun Rocks have been tested at being more potent, up to 80% THC while Moon Rocks reach around 60% THC.
A New Age in Cannabis Products
Legalized cannabis is opening up an entirely new realm of experimental goods, and of these Moon Rocks and Sun Rocks have arisen. It's rumored that the inventor of Moon Rocks was a rapper-turned-cannabis entrepreneur named Kurupt, who gave birth to what's known as "Kurupt's Moonrock". Based in L.A., his invention is beginning to become the talk of cannabis connoisseurs looking for a potent new product to try.
Discover More: The Components of a Cannabis Connoisseur
Moon Rocks: Three Indulgences in One
No, we aren't talking about the pure MDMA crystals also referred to Moon Rocks. In cannabis culture, Moon Rocks refer to nugs of top-shelf cannabis, usually Girl Scout Cookies (though various dispensaries are beginning to use their own strains), that have been dipped in high-THC concentrate such as hash oil. This coated nug is then dipped in kief; the crystal-like residue from the cannabis plant that contains the most THC.
The end result is something that looks like miniature meteorites – something you might find on the moon if you've a fantastic imagination. Moon Rocks have been known to reach THC levels on average of 60%, far more than your typical strain of 15%.
So, you get cannabinoids from the strain itself, from the concentrate it's dipped in, and from the kief covering the concentrate. This is definitely a recipe for an out-of-this-world experience.

Sun Rocks: Slightly More Powerful
If Moon Rocks were to send you out of this world, Sun Rocks will slip you amongst the stars. They are made in the same way that Moon Rocks are, though they've been tested at having up to an additional 20% more THC. This makes Sun Rocks by far one of the most potent types of cannabis for consumption on the market.
Known producers of Sun Rocks are "Big Tray Dee" and "Apollo Sun Rocks" based in California, though as these little meteorites become more popular among legal cannabis consumers, more dispensaries will be fashioning their own variations.

Cost of Moon Rocks & Sun Rocks
You can buy a gram of Moon or Sun Rock for around $25+ or an ounce anywhere between $550-1,400 depending on quality and THC levels in select areas. While the cost is seemingly outrageous, you'll only need a puff or two to get your mind where you want it to be. Any more than that and you might fall into a black hole.
How to Smoke Moon & Sun Rocks
Because they've concentrate on them, never use a grinder. Instead, use your fingers or a pair of scissors to break the nug up and place it on top of a bit of normal cannabis. You can smoke it in a pipe, bubbler, bong, or in a blunt. Take small inhales – you don't want to burn your lungs or throat in the process of becoming as high as you've ever experienced!
Learn More: Cannabis 101: How Can I Consume Marijuana?

Are They Really World's Strongest Cannabis?
Generally speaking, yes, they can be considered one of the world's strongest cannabis products on the market that is consumed via smoking. However, it is not the world's strongest cannabis strain as it's a variation of combining three separate types of cannabis all in one. Keep in mind some waxes or other concentrates can be fashioned to contain 100% THC (though rare) but they are not normally available to recreational consumers.