in
Health
CBD Infused Oral Hygiene Products that'll Make You Smile
Keep your lips and mouth healthy for International Kissing Day July 6th.
Posted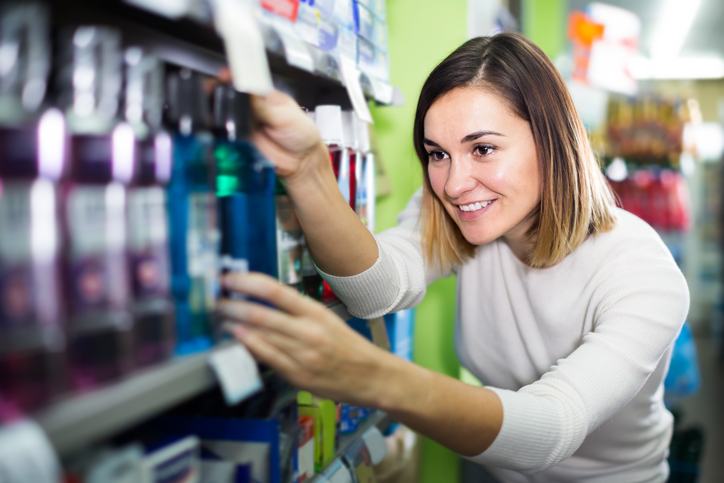 Today's the day to truly indulge in a kiss. International Kissing Day on July 6th originated in the United Kingdom and continues to be celebrated worldwide - between lovers, pet-owners, and overly zealous family members. Whether you plan on smooching your loved ones or trying out shotgunning (taking a hit of cannabis, kissing someone then blowing the smoke into their mouth), it's important to maintain your oral hygiene, and these products all have the healing cannabis essence of CBD in them.
Pucker Up!

Infused Lip Balms
Our lips are covered in extra-sensitive skin, having more sensory nerves within them than the rest of our face. We can feel the slightest, feathery touch on our lips, making a kiss a sensory-overload adventure. So if we're kissing someone with chapped lips, they're going to notice. Both women and men need to keep their lips soft, moist, and perhaps even a little flavored.
Vertly Hemp Infused Lip Butter - $22 - Rose or Peppermint - Infused with CBD oil, this lip balm butter has been reviewed to possess anti-inflammatory, anti-oxidant, and calming properties.
Calm CBD Lip Balms - $5-$10 - Eucalyptus, Peppermint, or Original - Specializing in CBD-infused lip balms, this company provides affordable infused lip care products that also protect from the sun.
If wanting to try a THC-infused lip balm, you'll have to ask your local dispensaries since THC cannot be delivered across state boundaries.

Learn More: How Hemp Oil Heals Our Largest Organ: Skin

Infused Mints
The worst thing that could happen to us on International Kissing Day, besides having horribly chapped lips, would be to have horrible breath. Calm your nerves with cannabis while simultaneously curing bad breath via an infused mint. CBD-infused mints are slowly rising in popularity, and can often be found in your local dispensary near the edibles. However, here's some online stores to check out as well:
American Green Mints - $15 - Peppermint and Key Lime - These mints cure bad breath while offer consumers a mild CBD-induced relaxation.
Urbal Activ CBD Infused Mints - $14 - Peppermint and Key Lime - These small mints are concealed in a small metal container and look like any other mint on the market. But if you're on the go, you'll be able to get your CBD fix too. Not to mention great breath for that kiss...
Mr. Moxey's Mints - $? - Peppermint, Cinnamon, and Ginger - These delectable and discreet mints come in various flavors meant to help set you in the right mood. Choose mints that have both CBD and THC in them that can either energize, relax, or bring balance to your well-being. Unfortunately, you'll only find these amazing mints in Washington or Oregon but we're sure you can find something similar at your local dispensary.

Learn More: 8 Ways Weed Can Improve Fitness & Health

Infused Toothpaste
CBD has been found to possess anti-fungal, anti-bacteria, and anti-inflammation properties, making it a great option for using to fight bacteria and gum disease. When CBD is in our toothpaste, we're cleaning out our mouth as well as keeping it healthy in the long-term by killing the bad germs and keeping inflammation down. The less you brush your teeth, the more likely gingivitis will spread (the first phase of gum disease) and the more likely your mouth will smell as your teeth basically rot out of your mouth. No one wants to kiss a mouth with rotting teeth. Always remember to brush.
Mesilla Park CBD Infused Toothpaste - $10 - This toothpaste isn't ordinary. Instead of a soft gel or paste coming out of a tube, you rub your brush on the toothpaste bar before using.
Oraximax - $? - This toothpaste is infused with CBG or cannabigerol. The company bringing this item to life is Axim Biotech, and they firmly believe in providing quality oral hygiene products:
"These formulations will target the daily use market as well as provide remedies for use in resolution of oral care infections and gum diseases. The company is focusing on research and development of commercial hemp-derived cannabinoid-based oral health products. It is known that certain cannabinoids act as effective anti-inflammatory, bactericidal, anti-proliferative, and regenerating agents It is also known that the oral cavity, being continuously traumatized by chewing, speaking, and being populated with numerous infectious organisms, is in need of effective oral health products."

Learn More: Cannabis Improving Beauty Products
Unfortunately, I haven't yet found any mouthwashes infused with CBD or THC, but it's my guess that they're currently in the making!
Cheers, and enjoy another International Kissing Day prepared with your favorite cannabis-infused oral hygiene products!
Comments