in
Events
Gigi Hadid Joins Celebrity Pantheon with Cayman Cannbis Bust
Fashion Model gets caught with cannabis in another country.
Posted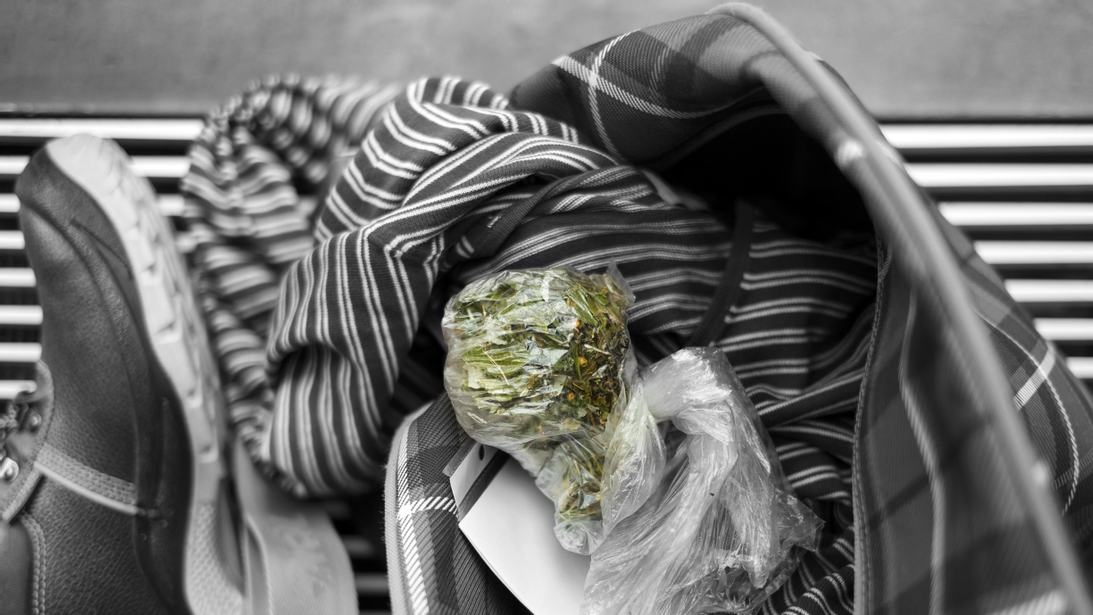 With cover appearances on Vogue, W Magazine, Harper's Bazaar and Elle, not to mention runway appearances for Anna Sui, Versace, Diane von Furstenberg and Fenty x Puma, there's not too many members of Gen Z that couldn't pick supermodel Gigi Hadid out of a lineup. And they could have come in handy back in early July when she was busted alongside her friend Leah McCarthy for bringing cannabis with her on a weeklong excursion to the Cayman Islands. By doing so, she joins a club of celebrities stretching back to the '40s that have gotten busted for cannabis possession and receiving the maverick mystique cannabis carries with it — even with the continued elimination of the laws restricting its possession and use.
It started when a private plane chartered by Gigi touched down at the Owen Roberts International Airport on June 10th. After a bag scan revealed that two passengers had cannabis as well as "cannabis utensils," according to the local paper Cayman Marl Road, both Hadid and McCarthy were arrested and taken to the island's Prisoner Detention Center, where they made bail. Two days later, both appeared in Summary Court, pled guilty, and were fined $1000 each. Neither received a conviction.
There have been mixed signals about Gigi's defense for the possession charge, or even whether it was her cannabis at all. When asked by press, Gigi's publicist said that she has a medical card, and that the Cayman Islands has legalized cannabis on the books since 2017. However, Marl Road says this only extends to CBD, and the Cayman Islands, like all countries in the world, does not have reciprocity policies in place with areas where cannabis is legal. TMZ also quoted a source as saying that the cannabis was found in the luggage of someone else in her entourage, but since the plane was chartered in her name, she was considered responsible. The source also said that Gigi was shaken down by authorities for a bribe, but she refused. Cayman authorities denied this.
Join the Club
Border crossings are notorious places for unsuspecting travelers to get popped for cannabis. It is illegal for travelers to transport cannabis across the Canadian/US border, although there is an exception made for medical cannabis patients coming from the US who have a permit or exemption from Health Canada. Still, people forget this all the time, most notably Melissa Etheridge, who was detained for bringing back cannabis and THC oil from the Canadian side. She also pled guilty and paid a $1000 fine. And of course, there's Brittany Griner, whose travails in Russia over cannabis oil cartridges have been well-documented.
For many years, Being caught with cannabis wasn't always a dealbreaker. This was proved most notably in the case of Hollywood actor Robert Mitchum, who was busted alongside actress Lila Leeds for smoking a joint at a party in Laurel Canyon in 1948. After being convicted and sentenced to 60 days in jail (later reduced to 45), some observers thought it would be the end of his career. However, Mitchum continued to find work during the '50s, particularly iconic roles in Cape Fear and The Night of the Hunter, even as some of his peers' careers were sidelined by the Red Scare. Paul McCartney found an 11-date Japanese tour with his then-current band Wings sidelined when authorities at Narita International Airport found a pound of cannabis in his luggage — which he insisted was for his personal use — but managed to escape a potential seven-year sentence.
It is highly unlikely, even in the 21st century, that most people caught travelling internationally with a pound of cannabis will escape serious consequences. A thread on Twitter by the Last Prisoner Project, which fights to release cannabis prisoners, acknowledged this reality. "We are relieved that Gigi and her friend were released and will not be subjected to additional consequences… But it must be said that the outcome for Gigi is not the reality for most people in her situation. The vast majority of individuals with cannabis convictions are low-income individuals and people of color. And those same groups are much more likely to face more serious criminal penalties."
Comments