in
Travel
Getting to Know You: Statistics of 2017 Las Vegas Visitor Profile Study
We learned a lot about the guests visiting Sin City...
Posted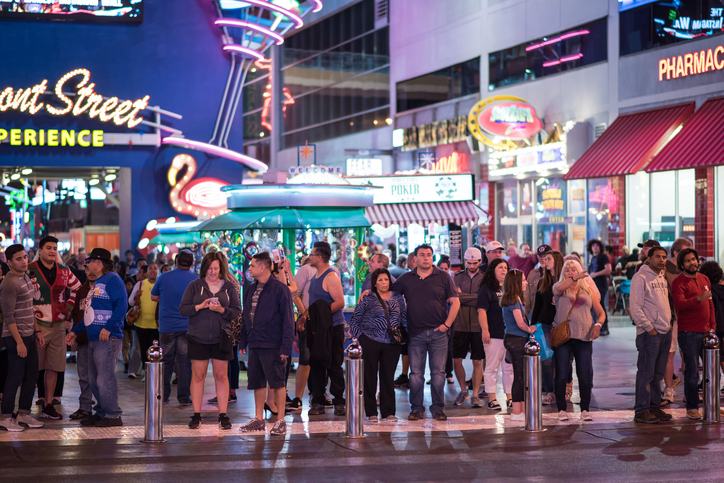 Thanks to the 3,600 participating Las Vegas tourists that agreed to be surveyed throughout 2017 (300 per month), we can be sure to keep the entertainment going and the food hot on your plate by knowing why visitors come and where they're most likely to meander. Unfortunately these surveys didn't incorporate any questions regarding legalized cannabis in the city, but the questions that were asked do shed light on tourists' travel planning, trip characteristics & expenditures, gaming behavior & budgets, entertainment, attitudinal info, and other notable demographics.
The purpose of surveying so many people in Las Vegas is to help calculate economic impacts of differing visitor groups, determine visitor satisfaction levels, and examine the vacation and gambling habits that go on in the city.
If you're curious to see how people plan their trip, how much they spend, and what type of entertainment they engage in, take a look at some of these findings summarized here.
Reasons for Visiting
Only 21% were first-time visitors. 79% are repeat visitors, up from 2016's 73%.
22% visited Las Vegas two to three times in one year.
Less than half (48%) visited Las Vegas primarily for vacation. 5% said their primary purpose was to gamble.
11% attended a convention, trade, or corporate meeting.
51% of those attending a convention, trade, or corporate meeting didn't believe that holding it in Las Vegas made it any more interesting.

Travel Planning
6% planned their trip to Las Vegas less than a week in advance. 71% planned over a month in advance.
54% arrived at the city by ground transportation and 46% arrived via air.
19% used a ride sharing service while 49% used their own vehicle to get around. 29% used taxis, 13% used a bus, 15% used the shuttle, 14% used rental cars, 11% used monorails, and 2% used limousines. (note overlap)
10% used a travel agent.
66% used the internet/online tool (website, social media, app) to plan their trip while 47% relied on word of mouth.
73% used Google in planning their trip.
75% used an online tool (website, app) to book their flight.
34% used a hotel website to book their accommodations, while others used Expedia, Hotels.com, Priceline, Hotwire, Travelocity, Vegas.com, Orbitz, and airline websites.
57% visited downtown Las Vegas with 59% of those saying the primary reason was for the Fremont Street experience.
41% of those that did not visit downtown Las Vegas claimed they didn't have enough time to, while 37% said they had no interest in visiting that area.

Trip Characteristics & Expenditures
70% of visitors came with only one other person with them while 11% came alone.
Only 8% had an individual in their party under the age of 21.
32% stayed a total of three nights, 18% stayed two nights, and 22% stayed five or more nights.
90% stayed at a hotel while 6% stayed with relatives.
73% stayed on the strip, 5% downtown, and 13% in an outlying area.
50% paid for their accommodations at regular price rates and 17% paid for them in a package deal.
The average cost per person that purchased a hotel/airline/tour/travel package was $858.52.
Average expenditures on shopping was $143.13, average on shows/entertainment was $60.22, and average on sightseeing was $31.41.

Gaming Behavior & Budgets
74% said they gambled while visiting Las Vegas.
Of those that gambled, 77% gambled two or less hours per day and 1% said more than eight hours per day.
20% of those that gambled had $600 or more as a gambling budget while 27% had less than $100.
89% gambled on the strip and 40% gambled downtown.

Entertainment
59% of visitors attended a show.
50% of those that saw a show saw a lounge act, 27% saw a Broadway production, 21% saw headliners, and 13% saw comedy revues.
68% went to a no-cover hotel bar/lounge while 36% went to a freestanding no-cover bar/lounge. 7% attended a pool party or day club.

Attitudinal Information
99% of Las Vegas visitors said they were satisfied with their visit and 76% of those said they were "Very satisfied".

Notable Visitor Demographics
74% of visitors are married.
17% are retired, 3% are students, and 72% are employed.
46% are college graduates.
The mean age of visitors is 44 years old.
16% are foreign visitors coming from outside the U.S.A.
To view the full visitor study, click here.
Comments