Gamble on Your Archery Skills: The Orleans Opens Virtual Zone
Now you can win money based on your skills in virtual reality.
Posted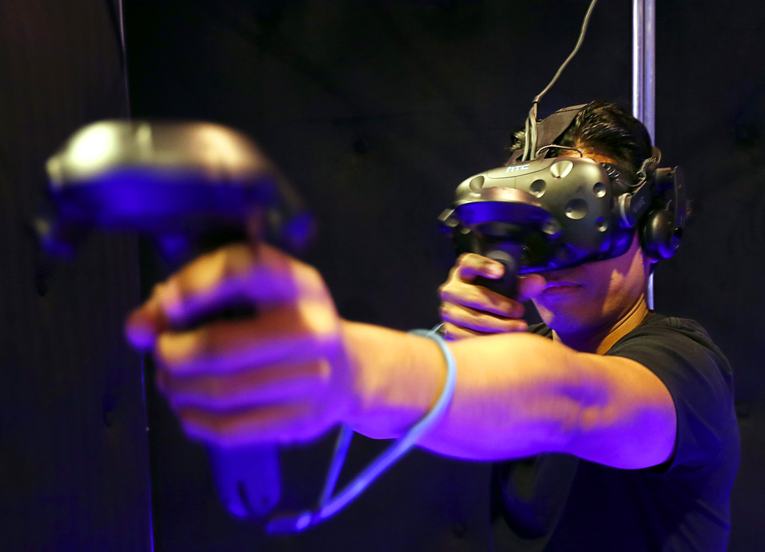 Shooting a virtual arrow during an archery game at the Virtual Reality Zone at The Orleans March 23, 2018. Photo Credit: Steve Marcus
As the popularity of virtual reality skyrockets, The Orleans in Las Vegas steps up to the launch pad. Its newfound Virtual Zone is now open to the public, offering B Connected Members the opportunity to win some cash based on their ability to hit targets using a bow and arrow in virtual reality.
The addition to the casino comes as the time of Millennials begins to take hold of the city. While traditional gambling will always be in demand, Millennials' taste grows beyond this as they search for entertainment more appeasing to the brain with the continued excitement of gambling with money. The casinos are recognizing the demand for high-quality and technologically advanced entertainment, proceeding with new additions like The Orleans' newfound Virtual Zone.

Discover More: Experience Virtual Reality Free-Roaming in Las Vegas While Hytened
The competitions and tournaments are daily, using HTC Vive VR technology to submerge players into a competitive virtual realm where you must battle and defend your castle from the enemy. Scoring is based on the number of targets successfully hit with your bow and arrow.


There's currently two games to choose from in the Virtual Zone:
Siege VR - You and a partner defend your castle. $30 to play with a grand prize of $300 for the team with the highest score.
Archery VR - Single player test of accuracy and skill. $10 to play with a grand prize of $125 for the person with the best accuracy and most targets hit.
The Orleans Virtual Zone is located adjacent to Bailiwick and gaming hours are as follows:
Monday-Friday: 4pm-10pm
Saturday & Sunday: 2pm-10pm
Read the Official Rules by Clicking Here.

Strains for Improving Focus & Enhancing Experience
If this type of entertainment sounds alluring to you and you're interested in giving it a go, the following strains have been acclaimed to improve focus as well as help enliven an experience - i.e. - make virtual reality more fun!
Afghan Haze - Will uplift mood instantly and free the mind of negative thought patterns. Focus will increase for some, with tension in the body melting away. Some report experiencing bouts of the giggles, so this is a good strain to try with friends and alleviating stress while trying VR.
Dream Queen - Though this strain may cause you to feel slightly spacey, energy will arise and mood will improve. Great for trying with friends as it will rid you of stress and place you in a talkative mood. Going out will feel like an adventure, especially in a virtual world.
Jack Kush - The mind will become clear of any displaced thoughts, with mood and energy heightening. While this is a great strain to improve focus, you may experience the munchies on this one.
Strawberry Diesel - You'll feel merry, be inclined to engage with others, and focus will improve. Though a sativa, its effects are more calming than jittery and can help a little with any aches in the body before you enter the Virtual Zone.