Gamble on the Greens: Playing Nighttime Golf in Las Vegas
These facilities allow sportsmen to entertain their urges at night.
Posted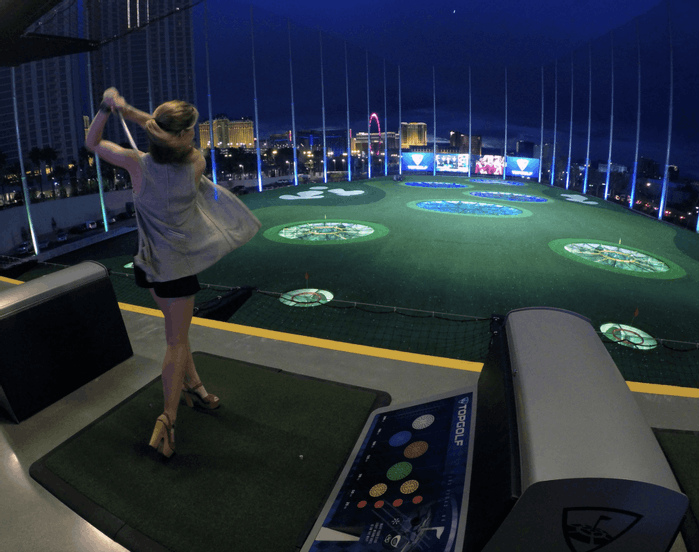 You're with all your buddies, you've got some premium cigars, a bit of THC in your system, and are ready to sip on some cognac or cocktails. The moon is rising above Sin City, but it's not late enough to hit the clubs or casinos.
How about gambling on a few holes at a golf course, sharing some laughs, and seeing what it's like getting practice in at night while breathing in some fresh desert air? Yes, there is nighttime golfing in Las Vegas, because there's enough light to go around – even for immense golf courses.

First, Best Golfing Strains
Before grabbing your clubs and heading to the greens, try out a few of these greens first:
(Learn More: Cannabis Converses: Indica vs Sativa INFOGRAPHIC)
Green Crack: Yes, this sativa is popular, but it's one of the best in getting you pumped up for whatever endeavor lies before you. If you're heading the golf course and need a pick-me-up to help excite you and get you ready for a great game with your friends, this one will help you focus while energizing you.
AK-47: A hybrid, what makes this strain great for a night of golfing is that it will mellow you out. It leaves you fully functional while maintaining a tingly, pleasant, body high. Perfect for pairing with a cocktail or cigar.
Emerald Jack: This one is similar to Green Crack regarding energy and focus, but your mind will want to be amused as well, allowing you to easily conversate with your friends in between holes. This is a great strain for socializing while keeping up with the game.
God's Gift: As an indica, this strain will make you feel relaxed and calm more than anything. If you're tense from a day in Las Vegas but want to loosen up for a few tees, this one's your go-to. You'll have a euphoric experience, and be amused by nearly anything (perhaps have a case of the chuckles). Be careful not to smoke too much as it will lead to sleepiness.


Nighttime Golfing Experiences of Las Vegas
Though you won't see it at night time, or perhaps you'll catch a sunset's glance, this golf club has views of Red Rock Canyon and the Las Vegas Valley. Arnold Palmer designed 36 holes here, the Palm Course and the Mountain Course. For nighttime enjoyment, a "Cloud Nine Short Course" along with a putting course that are both lighted through the evening. There's elevation dips, sand banks, and even fountains aplenty on the courses.
Not far from the strip, about 15 minutes, this golfing club is climate-controlled and features 56 two-tiered hitting bays that are open well into the night. This is a great practice location for those wanting to work on their stroke and aim. Lessons are offered here, as well as food at their own snack facility. Score, for anyone that forgot to bring munchie snacks.
This amazing facility is located right on the Las Vegas strip, so nighttime play is most welcome. It may not feature an immense course designed by a famous player or architect, but it's definitely fun and features high-roller extras at low-roller prices. This place has a liquor-license along with a happy hour, a bar & grill, and unlimited play all day/night is $60 with a cart (for non-residents, residents get this at $50).
At the MGM Grand, there lies 107 climate-controlled hitting bays along with a Topgolf Pro Shop. If you're looking for any new gear instead of renting it while on vacation, this would be a good place to start. So if you'd rather work on your form and power rather than play a course, this grand and gorgeous on-strip facility is for you.
Discover More: First Las Vegas Dispensary Open 24/7 on the Strip