in
Cooking
No-Bake Infused Fudge for National Fudge Day
A simple but delicious recipe for cannabis fudge lovers.
Posted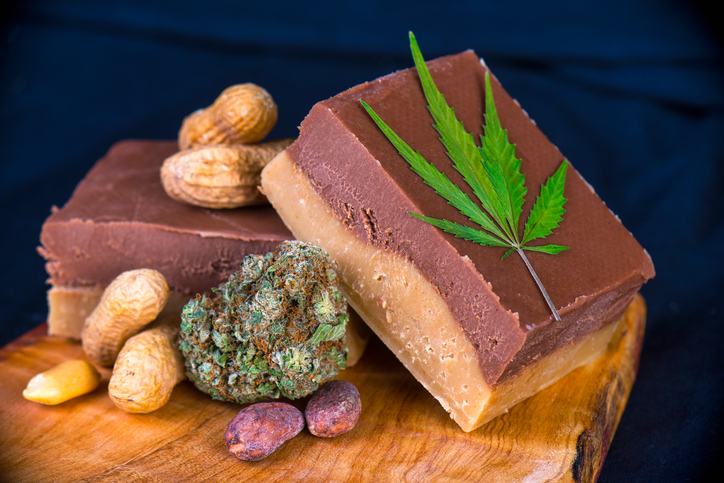 National Fudge Day is June 16th and we're not going to skip out on this event. Make some fudge with us infused with cannabis for a delicious treat that's both satisfying for the taste buds and the mind - a perfect treat or gift for anyone that loves cannabis as much as us. You'll need some Cannabutter for this recipe, so if you don't have any, buy some from your local dispensary or make it yourself!

Learn More: DIY: Cannabis Infused Butter

Ingredients Needed:
1 pound (4 sticks) CannaButter, melted
2 pounds (7 cups) powdered sugar
1 cup Hershey's cocoa
1 cup peanut butter
1 tsp vanilla essence
1 tsp caramel extract
Materials Needed:
Small saucepan
Large mixing bowl
Spatula/mixing spoon
Large flat pan
Prep Time: 15 minutes
Cooking Time: 20 minutes
No Bake Infused Fudge Recipe
1. Melt Ingredients
A. Melt together the cannabutter and peanut butter in saucepan on low heat.
B. Add vanilla essence and caramel extract. Stir well.
2. Mix Dry Ingredients
In large bowl, mix powdered sugar and Hershey's cocoa.
3. Combine Wet & Dry Ingredients
A. Take melted ingredients and pour into large bowl with dry ingredients.
B. Stir until smooth.
4. Refrigerate & Enjoy
A. Pour combined ingredients into large pan and press until flat & even.
B. Place in fridge until firm (1-3 hours).
C. Enjoy!
FIN
There you have it - an extremely simple but delicious way to make infused fudge without worrying about cooking it in the oven and vaporizing cannabinoids. Just be sure to use temperatures below 325 degrees when melting the cannabutter. Feel free to add nuts or other extracts to switch-up the tastes and textures - and don't forget to share with other edible-enthusiasts!

Learn More: How to Properly Cook with Infused Ingredients
Comments