in
Travel
These Bartenders are Made of Metal
No need to tip them, they're robots.
Posted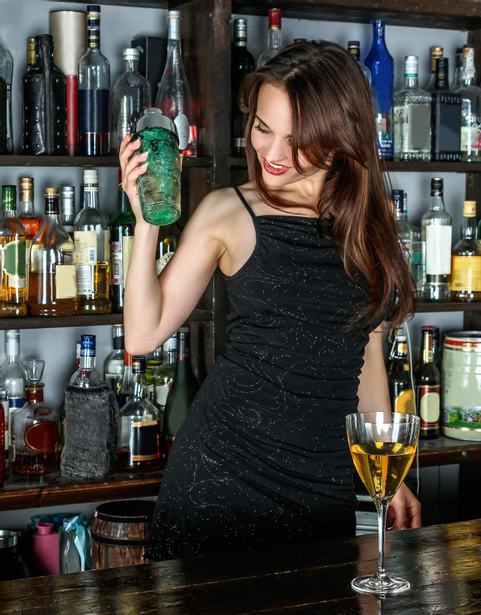 The year is 2017 and Las Vegas has begun to reach an unhurried but prestigious peak in entertainment. Waitresses are known as Galactic Ambassadors, the smell of cannabis roams the streets, drinks are unlocked and custom-made using phones and tablets, and robotic arms are the crafters of alcoholic beverages. Sitting unbeknownst to the great throngs of the city sits the Tipsy Robot, the place where it all began.
Okay, so perhaps this isn't how all of Vegas is, but the Tipsy Robot is beginning to make waves as its two robots lure in visiters, fashioning custom-made drinks that are just as delicious as those made by humans.


What to Expect at the Tipsy Robot
The environment is futuristic, having metal stools and tables that have tablets attached to them for guests to enter in their beverage order. If you don't want to custom-make it, you can choose from 18 signature cocktails.
Don't forget to have an e-mail addy handy, because you're notified via an e-mail once your drink is up, tapping a link to unlock your drink. This ensures that once it's ready, a passer-byer doesn't just make off with your cocktail. You can keep tabs on when it's about to be made by reading the drink queue on immense screens near the robots. The screens also feature what drinks are most popular/ordered the most, and trends in drinking categories. Luckily, each drink only takes between 60-90 seconds to be made, so the queue moves quickly.
A standard drink from the Tipsy Robot starts at $14, so don't plan on getting too hammered here. However, his makes it a prime location to visit if you're a little high off of some premium ganja you purchased down the strip. You don't want to get too high and buzzed at the same time, it might not agree with you – so pacing yourself is ideal and can be done here! That is, if you don't choose to have 14 out of 14 parts of your drink as alcohol.
Learn More: Drunk vs. Stoned vs. Both

Don't Worry, There're Human Bartenders Too
While the robot bartenders, formally known as "Kuka", don't need assistance in fashioning amazing cocktails, they do need humans to assist with replenishing bottles and serving guests extras. The owner has emphasized they are more for entertainment purposes – not to replace the jobs of bartenders (a human bar also available). There's only one other location with robotic bartenders, and they're not even land-based. You can find the same robots on Royal Caribbean's Harmony of the Seas cruise liner.
Discover More: Mermaids & Mary Jane in Las Vegas

Location of Tipsy Robot
You can find the Tipsy Robot inside Miracle Mile Shops at Planet Hollywood, Las Vegas resort. It opened June 30th of 2017 – so it's quite new and creating a lot of buzz. Be one of the first people to enjoy a cocktail fashioned by a robot, and why not try it while under the influence of your favorite strain of ganja? You can pretend you're on a space ship in the future with your travel buddy, or enjoy the colorful LED lights that decorate the bar. No need to worry about having extra cash for tips!
Comments