in
Travel
20 Fun Pictures & Selfies to Take While in Las Vegas
To be or not to be hytened while photographing Vegas…
Posted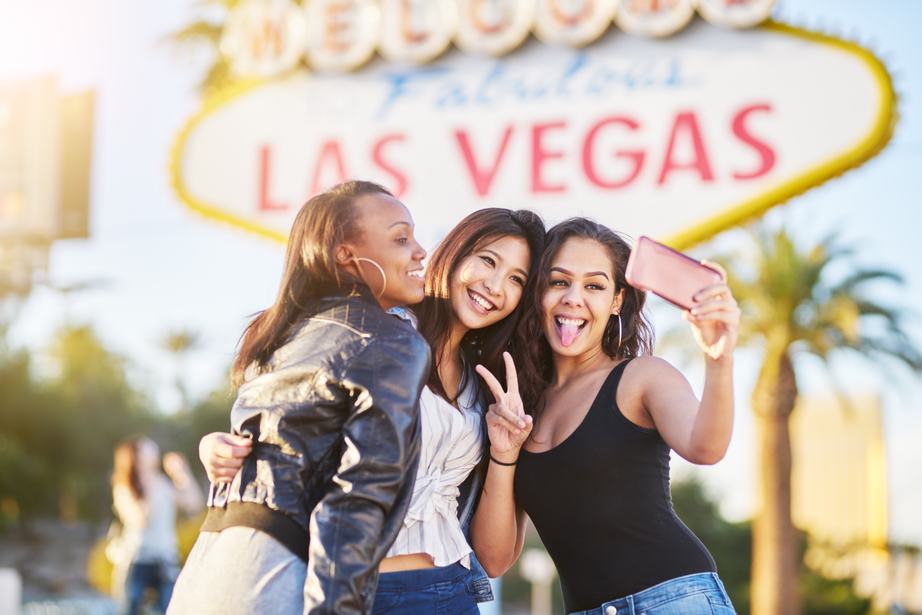 If a picture is worth a thousand words, then a picture in Las Vegas is worth seven times that. There's something happening around every corner, unique ambiances setting moods in every nook, flashing lights that'll light up your curiosity, and the people… They're something that words fail to express.
This is where your camera comes into play. If you've got a great camera on your phone, then you're already half-way towards gathering gigs of memories you'll cherish for a lifetime (or at least laugh over). Just be careful not to snap something that might upset your partner.
And yes, taking these pictures can be infinitely more fun if you've blazed with your traveling buddy before venturing onto the strip.

Pics You've Got to Take
1. Porn Slapper Cards.
If you've never been to Vegas, you'll soon know what I'm talking about. There's people on the strip that try to put a card in your hand advertising (usually) escort services. Go ahead, take them, and create a collection of them you can take hilarious or questionable pictures/selfies with.
2. Bellagio Fountains.
If you happen to be walking by them while they're going off, take a selfie with them in the background. This pic is always a cherished one that makes us wish we could go back to Vegas one day…
3. Homeless Person with a Funny Sign.
Don't be a jerk, slip the guy or gal a Lincoln or Hamilton before you go snapping pics of them. Ask if you can take a pic WITH them... Some have amazing signs that are pretty honest: "Not gonna lie, need money for beer".
4. Elvis Impersonators.
Find as many as you can and take pics with all of them. OR… Michael Jackson… Try to mimic their pose…

5. Immense Slot Machine.
Find one and get your picture taken playing one – you know, the ones that are 10 feet tall and advertise a crazy jackpot. This picture would be even better if you're also holding an enormous drink in your hand.
Discover More: Gambling While Baked
6. A Gold-Digger.
Yup. See if you can find a couple, either a super sexy young woman with an incredibly older man or vice-versa… Take a selfie with them in the background and enjoy the conversations the pic will bring up with your friends.
7. A Moving Statue.
They're either on the strip or roaming the shops at the Venetian. These guys might freak you out a little if you're high.
8. Someone Passed-Out.
This one might be harder to find because loyal friends are usually around to help out, but it's not impossible. Drinks or a great indica strain combined with exhaustion definitely become a mixture for sleep found in Las Vegas.
9. A Police Officer.
Have someone take a pic of you and your group either with a real Las Vegas police officer or an impersonator. Make it look like someone was getting arrested.

10. A Club's Line.
One where it's about 100+ people long. Then be grateful for the short lines at your hometown's clubs.
Discover More: Incredible Music Venues for a Hytened Experience
11. The Welcome to Las Vegas Sign.
This one's a classic, you've got to be standing in front of it.
12. Beer Pong.
There's some modern clubs (I can think of one at the MGM Grand) that have beer pong tables for the young crowds, so get your pic taken playing it Las Vegas style.
13. Wedding Chapels.
You're bound to find advertisements for them. Seek one or two out and snap some photos of them… Take a fun pic of your travel buddy proposing to you in front of it then show your parents. That is, if your travel buddy isn't your husband/wife!
Discover More: Top 5 Meaningful Wedding Rituals Using Cannabis
14. Cocktail Waitresses.
Either the prettiest one you see, the oldest one you see, or the youngest one you see. Whatever rolls your dice.

15. A Drunk Human.
One that's still conscious but having trouble standing or saying something hilarious to security... This might be video or Snapchat worthy.
Discover More: Drunk vs. Stoned vs Both?
16. Ceasars Statue.
Go to Ceasars and roam the shops until their statues come to life and perform. You'll know what I'm talking about when you're there.
17. Venetian Gondola Ride.
A pic of this is a decent photo opt and quite romantic. Don't forget to actually take a gondola ride, you'll enjoy it if water doesn't unsettle you.
18. Celebrity Look-Alike.
Find the most realistic one and make the pic seem as if they're the real celebrity trying to avoid getting their picture taken. Most will play along if you pay them. Money talks, or in this case, acts.

19. A Bride and Groom.
Try to find a bride and groom in a casino or restaurant or walking the strip. Imagine what you're wedding would be like in Las Vegas…
Discover More: Smokable Bouquets, Boutonnieres, and Centerpieces
20. A Fried Twinkie under Fremont Street.
Take a selfie or have someone take a pic/video as the ceiling is performing a show and you're eating a delicacy of the city.
Comments