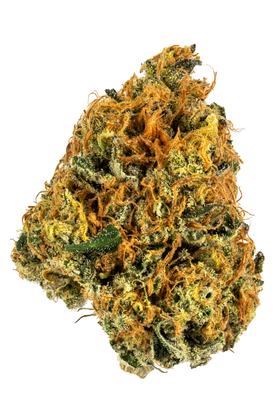 About this Indica Strain
Mo Lune Day sounds more like the name of a villain from a video game than a strain of cannabis. The root of the term can be traced back to the breeder, Gage Green Genetics. They created the phrase, and define it as: "Have a better day filled with healthy and happy cannabis."
We most certainly will Mo Lune Day! This meticulously created, soothing indica-dominant hybrid, came from crossing a 15th generation Motorbreath female with a champion Breathwork male, named Dizzy.
The Mo Lune Day buds are made up of jagged and wavy, deep fern-green leaves, packed tightly together, and hidden under a mass of frayed bundles of dark-orange pistils. The kief from the thick jacket of trichome hairs leaves fuzzy white spots and thick golden-orange patches over the buds.
Mo Lune Day emits a diesel fuel and sandalwood base odor, with hints of citrus fruits and berries. Smoking or vaping Mo Lune Day brings out the sour berry flavor, with a spicy, hash-like aftertaste.
Users report a euphoric and blissful psychoactive high, that is more consistent with what we usually see with a Sativa. Energy remains level despite the reported soothing narcotic-like body buzz, which may help relax the skeletal muscles and nervous system, but the trippy cerebral effects can make focusing more difficult, according to reviewers. This might be in part due to the high THC level that we've seen testing around 25% on average. Despite the boost in energy, most users experienced an increase in appetite, as well as an improved quantity and quality of sleep. The "Have a better day filled with healthy and happy cannabis," definition couldn't be more true according to many users, as Mo Lune Day is a rare Indica that made their morning, mid-day, or evening more enjoyable.
Lab Data
Cannabinoid Lab Data

| Cannabinoid | Amount |
| --- | --- |
| THC: | 23.32% |
| CBD: | 0.05% |
| CBN: | 0.05% |
Terpene Lab Data

| Terpene | Amount |
| --- | --- |
| Alpha Pinene: | 0.729% |
| Beta Myrcene: | 0.408% |
| Beta Caryophyllene: | 0.319% |
---
Lineage
---