in
Travel
Use Cannabis to Stimulate Your Appetite in Vegas for a Thanksgiving Feast
Be thankful for cannabis, and for its potential to help you out on Turkey Day.
Posted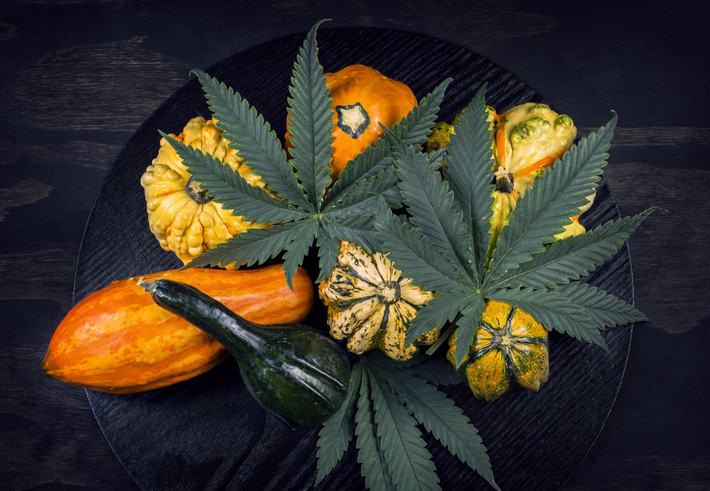 The threat of Thanksgiving Day is upon us. The menacing mountains of food that beckon to our bellies, and how we must maintain our honor in trying every dish, made by every family member.
But celebrating Thanksgiving in Las Vegas is far different from your family get-together. You've got restaurants galore, serving spectacular cuisines and the ability to choose whether or not you'd like to indulge in something completely different than your norm.

Fear of Feeling Full too Fast or Having a Non-Existent Appetite?
Yet still, there's the sad thought in the back of your mind you might fill up too fast. Do you fast throughout the day and wait for dinner so you can eat more than you normally do? Maybe, if your stomach doesn't shrink and you're able to resist the wafting scents swooping out from the Vegas restaurants you're surrounded by. Do you have breakfast and lunch like normal, and risk over-indulging with an amplified caloric intake and obscene amount of fats and carbs for the day once dinner and dessert arrive? Only if you don't mind packing on an extra pound or two.
A trick I've learned that works for me is to eat throughout the day; graze. Don't eat full meals, but smaller, healthier alternative snacks. You can find places everywhere in Vegas that serve food - and discover little places here and there while searching for your next small snack that you might not have noticed.

Discover More: How to Eat More Vegetables in Your Life with Cannabis-Infused Ingredients
Or, you could grab two handfuls of nuts, a few oranges, or whatever natural food that divides into bite-size segments and eat those throughout the day. Just randomly pop them in your mouth. It's little 20 second breaks for your mind as you focus on your sense of smell and taste.

Does Cannabis Really Stimulate Appetite?
And now, an even better trick if you're not up for advice about your eating habits. There's a good amount of cannabis strains on the market that have been claimed by reviewers as great appetite stimulators. However, until recently, scientists didn't look into how the plant does this.
It was the Society for the Study of Ingestive Behavior that finally found support to look into this claim people had been making in their reviews of various cannabis strains. Unfortunately, their study involved rats and not humans. Despite this, they found that rats who received cannabis by inhalation (vapor) ate another meal after a short delay despite having recently eaten, while those that were not exposed to cannabis were not stimulated to eat another meal.
Apparently, cannabis induced a rush of ghrelin which is a hormone that's predominantly in the stomach and triggers the brain to look for food, it's hungry (among other things like stimulating the secretion of growth hormones from the pituitary gland which could also be looked at...) There's more that they found, but that's all the info we need for Thanksgiving.

Finding Your Thanksgiving Strain
Budtenders tend to know which strains on their shelves have been described as appetite stimulators and usually they'll help point you in the right direction (keep in mind they're not medical professionals and get their info from reviews). Every strain is going to affect every person different based on body chemistry, weight/metabolism, along with how much is consumed. Just keep this in mind when searching for a strain that's meant to enjoy a satisfying meal with someone you love in Sin City.
You don't want to fail in testing out your Turkey Day strain and find out that not only does it increase appetite, but it spaces you out and you constantly forget what you're talking about. That would be no fun. Try it before you apply it (to your planned experience).

Discover More: 7 Questions Answered: Cannabis Dosing and Tolerance Levels
It's time to venture out and find a local dispensary selling appetite-stimulating strains if you'd like to kick-start your enjoyment of gourmet Thanksgiving foods. Some strains have also been described as increasing sensory perception, so maybe you'll be able to pinpoint one that makes flavors and smells more intense.

So, what strain do you plan on trying before Thanksgiving this year? How does it help you? Would you prefer using one to calm social anxiety or perhaps make conversation more interesting? Leave us your thoughts and advice below!
Comments