Top 5 Pools in Vegas
Where are the hottest pools in Vegas. Your answer right here.
Posted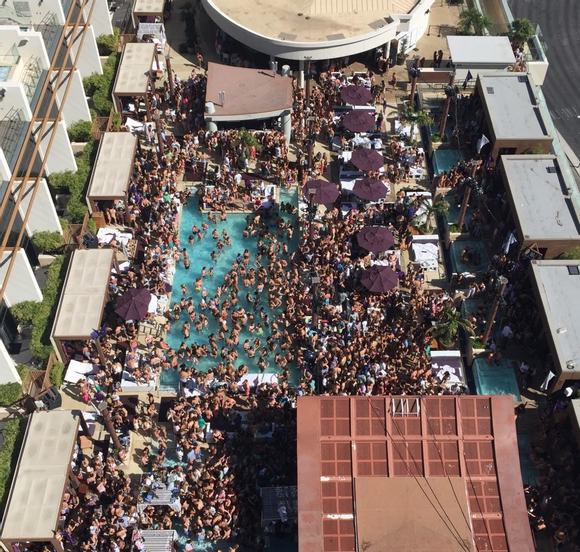 When you're in Vegas to blow off some steam AND get a tan, where do you go? Pick a pool. The Las Vegas pool scene is part party, part sunshine vacation, with an extra shot of party.
The best pools in Vegas are wet. You add the hot.

When is it open: 11:00 a.m. to dusk on Friday, Saturday, and Sunday
What to bring: Pool party attire like swim suits and board shorts. Athletic gear and pants not permitted.
You can thank the Hard Rock for the hotel pool day-clubbing scene in Las Vegas. Rehab pool parties at the Hard Rock during the summer are not for the faint of heart. Get in there, get wet, and have a good time. You can find areas to relax in the sunshine too but, c'mon. You're at the Hard Rock in Vegas.
Caesars - GARDEN OF THE GODS POOL OASIS
When is it open: 9:00 a.m. to 5:00 p.m. daily
What to bring: A desire to relax in all your pool gear.
The Garden of the Gods pool is huuuge. It has 6 pools spread out among historic Roman architecture and sculptures. You can find whatever you need there from drinks, to relaxation, to card games.
If you want to go where tops are optional scoot over to the nearby secluded Venus pool where you can relax away from the crowds and the kids. Venus opens April 15th.
When is it open: 9:00 a.m. to 6:00 p.m. daily
What to bring: pool gear and a desire to party
The GO Pool at Flamingo has a summer lineup of DJs to keep the day party up to Las Vegas standards.
With a contemporary look and feel, the GO Pool is the larger of two Flamingo pools that connect through lagoons around a giant waterfall.
There are ongoing special guests, celebrity appearances, and resident DJs. The summer lineup includes R&B performer Sisqo, Taboo of the Black Eyed Peas, DJ Koko and DJ Bayati.
When is it open: 9 a.m. to 5:00 p.m. daily
What to bring: adult party attitude for the ultimate adult pool experience.
The Rio Las Vegas Hotel has four different pool areas that include cascading waterfalls, multiple whirlpools and specialty cocktails.
VooDoo Beach Bar is where the real action happens. Great drinks made by flair bartenders and a party atmosphere.
Discover More: Drunk vs. Stoned vs. Both?
When is it open: Thursday 10:00 p.m. – 4:00 a.m., Friday 11:00 a.m. – 7:00 p.m., Saturday 10:00 a.m. – 7:00 p.m., Sunday 11:00 a.m. – 7:00 p.m.
What to bring: Everything you've got. If you can get in to Encore Beach Club, have your party game on.
Steve Wynn doesn't mess around. His Encore 5-star resort extends to the pools and the Encore Beach Club especially.
With a steady stream of top level DJs performing through the season and a unique 2 levels of cabanas, the scene is set for an intimate gathering with some anonymity and seclusion when you want it.
Cabanas don't come easily, especially for sought after performers, so be sure to plan ahead.
Discover More: Las Vegas Hotel Suites that Won't Break the Bank