in
Culture
Tips on Creating a Clean and Safe Cannabis Space in your House
Consider these options as you prep your smoking area.
Posted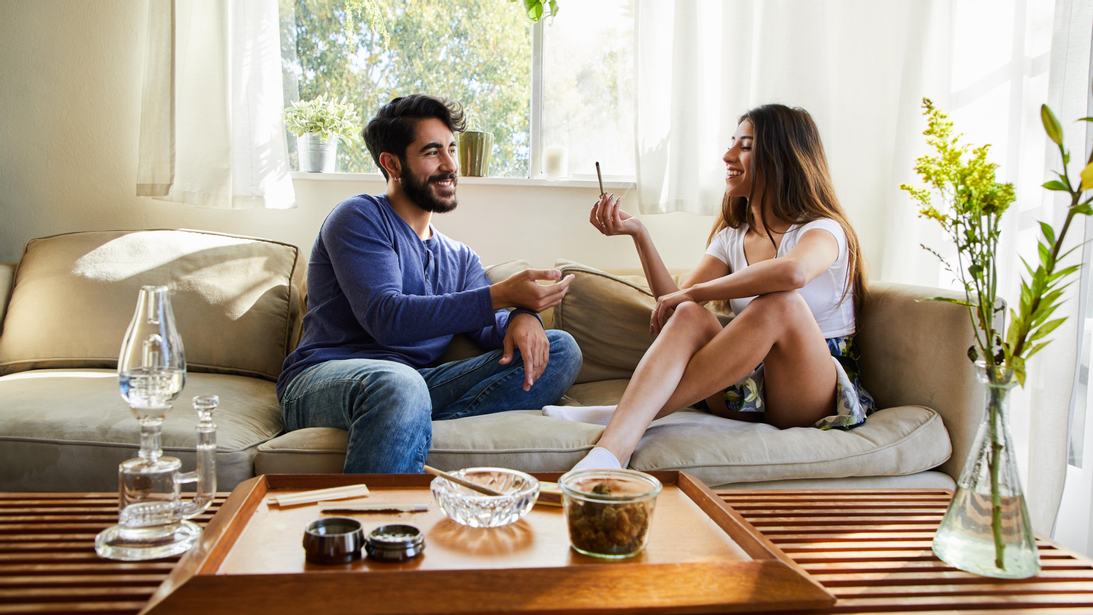 You know the times are changing when the Wall Street Journal writes up a style article on a $38 million Bel-Air estate being sold by a cannabis tycoon, complete with a "cannabis smoking room" amongst its amenities. While you might not have the $100,000 on hand to ventilate your space that the owner had, you certainly may have a desire to carve out a section of your home, humble or otherwise, to a dedicated cannabis pursuit.
There's as many different aesthetic options as there are cannabis users in the world, of course, but cannabis rooms or lounges can serve many other purposes as well, such as corralling the smokes and odors that regular cannabis use will emit. There's plenty of good and affordable ways to do both, thankfully, so if you're wondering what they might be, read on.
Dealing with the Smoke
Whether you're renting your house or owning it outright, having a devoted cannabis space if you're going to smoke indoors makes sense. Cigarette smoke, for instance, can linger in spaces if you're habitual, leaving a yellowish tint to the walls and clinging to the carpet, furniture, and walls. Fortunately, cannabis smoke does not scuff up a home environment, but it does create odors, and as we all know, not everybody likes them.
For that reason, it's important not to smoke in open areas in the house. Smoke travels, and especially if you have kids, it's not outside the realm of possibility for it to end up traveling into their rooms. This is especially true if you have an interior ventilating system, where any smoke will end up sucked into a return air vent and then redistributed through the rest of the house.
For that reason, it's not unusual that most eventually opt for "That '70s Show" basement rec-room scenario — which is where the Bel-Air smoking room is located, incidentally. Be aware, because the smoke does travel upwards, that won't eliminate the need for proper ventilation. Especially if you're renting the house, you may be nicked with a cleaning fee if the landlord detects any residual odors.
When creating a cannabis lounge in your house, there are a few things to consider. First and foremost, you want to choose a room that is private and separate from the rest of the house. This will allow you to enjoy your cannabis without disturbing others in the house. And if you do end up in a windowless place, such as the basement, you may want to opt for an air purifier. for those who live downwind of regions prone to forest fires, it's probably in the house already, so it can certainly do double duty to keep your home air particulate-free.
The Decor
First off, we should clarify: A cannabis smoke space does it have to have any black lights, Bob Marley posters or bean bag chairs. Much of the paraphernalia sold and designed by Seth Rogen's Houseplant brand opts for a Midcentury Modern vibe, with muted earth tones and handmade ceramics. It doesn't necessarily announce to the world that you're a lifestyle stoner; in fact, it pushes against those outdated stereotypes. Since cannabis is used by practically everyone, it can reflect any lifestyle. But if you're creating a happy place, it may as well reflect what put your individual mind at ease, first and foremost.
Because cannabis is a social activity, you'll certainly want to make it as inclusive as possible. One common cultural preference among cannabis users is to incorporate natural elements into the design. This may include using earthy colors and materials, such as wood and stone, to create a calming and relaxing environment. A small refrigerator for liquids and snacks is also helpful, and if you have a rug, you might want to get it coated with some type of spill-protectant, if you're using a bong or waterpipe, to account for the inevitable spillage. Another common preference is to include comfortable seating, such as couches and bean bags, to create a cozy atmosphere. Lighting is also important, as you want to create a relaxing ambiance with warm, soft lighting. Consider adding dimmer switches to your lights so that you can adjust the lighting to your liking. A flat-screen TV might make sense, and, of course music certainly does.
Another consideration is the type of equipment and accessories you'll need. This may include a vaporizer, rolling papers, bongs and other smoking paraphernalia. Especially if you're entertaining guests, more accessories mean more opportunity for your guests to share. Finally, if you have children or pets, you'll want to ensure there's a lock on your door and that your cannabis products are safely secured, so that they don't gain access.
While cannabis has come out of the closet, it needs its own dedicated space in the house. And it makes sense if you're going to devote your own time and money to it, every bit the same as if you were to invest in a bar. However, drinkers have already established their own above-ground culture since their prohibition ended. Cannabis users are just getting started. We at Hytiva® look forward to seeing what you come up with.
Comments