in
Events
London Mayor Floats the Possibility of a Legal Adult-Use UK Cannabis Industry
A visit to LA provides insight into what a legal cannabis industry looks like.
Posted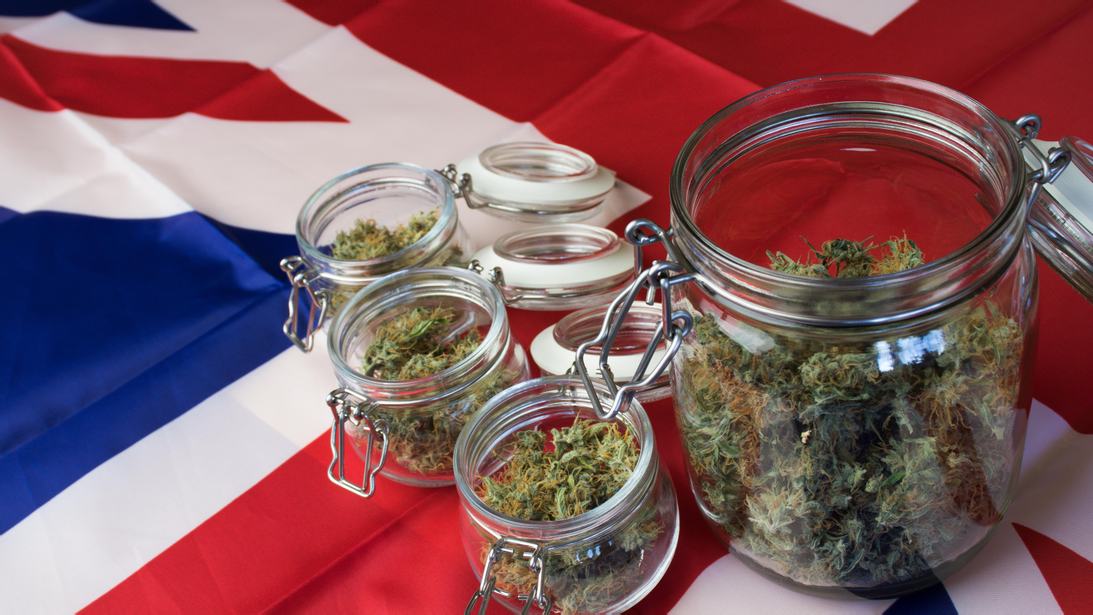 For the time being, Great Britain is nowhere near legalizing adult-use cannabis for its citizens, even though, according to its International Narcotics Control Board, it is the largest producer and exporter of legal cannabis in the world. Just last year, Prime Minister Boris Johnson announced his intent to seize passports and drivers' licenses of class A drug consumers (class A drugs, similar to Schedule I-designated drugs in the US, include heroin and cocaine). While medical cannabis has been legal in the country since 2018, it's still difficult to procure, and scare stories persist of the supposedly hazardous effects of "skunk" weed. But if you head out to London, you'll find that cannabis is as prevalent as it is anywhere in the United States. And this May, London Mayor Sadiq Khan went on a fact-finding mission to learn more about the legal cannabis industry in Los Angeles, in order to catch a glimpse of a post-prohibitionist future for his city.
WELCOME TO HOLLYWEED
Mayor Khan's trip, which also took him to New York and San Francisco, did not merely focus on cannabis. London itself has struggled in the post-pandemic phase of its recovery, so Khan's visit was taken in large part to encourage investments in the city. However, Khan is not aiming to create a model for a legal cannabis industry in Britain — at least not yet. During his re-election campaign last year, Khan made a "manifesto" pledge to create a London drugs commission, which would be charged with analyzing the city's drug laws. Similar to the LaGuardia Commission report requested by New York City Mayor Fiorello LaGuardia in the aftermath of federal illegalization in 1937, Khan's commission would focus specifically on cannabis reform, alongside other Class B drugs. Khan's pitstop in California's legal cannabis industry served as an extension of the soon-to-be-organized commission's work.
During his stay, Khan visited an indoor cultivation facility in downtown LA as well as Gorilla Rx, a cannabis dispensary licensed under the city's social equity program. His twitter account posted photos of the Mayor strolling through aisles of emerald green plants. He also attended a roundtable at LA City Hall with Mayor Eric Garcetti. "The illegal drugs trade causes huge damage to our society and we need to do more to tackle this epidemic and further the debate around our drugs laws," he told The Guardian. "That's why I am here today in LA, to see first-hand the approach they have taken to cannabis."
STIFF RESISTANCE
Khan's Tory opposition has already criticized the proposed commission's very existence as an ineffectual political stunt that distracts from the problems London faces. "Sadiq Khan's time would be better spent focusing on knife and drug crime in London," tweeted UK Home Secretary Priti Patel. "The mayor has no power to legalise drugs. They ruin communities, tear apart families and destroy lives." Even members of Khan's own Labour Party have spoken against Khan's activities. "[Labour Shadow Home Secretary] Yvette [Cooper] is furious about it. People are just rolling their eyes because it definitely is not the party line," HuffPo UK quoted an unnamed source from within the party as saying. However, another source mentioned a recent YouGov poll, which found that 52 percent of British citizens either strongly or somewhat supported cannabis legalization before posing, "Sadiq has positioned himself as a progressive mayor on the side of the public prepared to take on the tough questions to genuinely tackle crime rather than pointless posturing that isn't even popular anyway."
Moreover, legalization for a drug which has been illegal in the UK since 1928 is not on the agenda for Khan's drug commission. Rather, it will examine the outcome of different experiments in legalizing and decriminalizing drugs in various areas of the world. For now, only the chair, former lord chancellor and justice secretary Lord Charlie Falconer, has been named, but the commission when fully appointed will comprise of criminal justice, public health, education, community relations and politics. Considering various methods of curtailing drug use and when criminal justice responses are warranted, the commission will issue its findings to City Hall, the UK Government, the criminal justice services and public health. "I've been mayor now of the great city of London for six years. [You're] not just limited what you can do by the powers given to you by Parliament. You've got to use the bully pulpit of city hall," Khan told NPR in an interview during his LA trip. He acknowledged the critique of his Labour peers as well as his party's official stance, but also added, "The reality is, you know, people already use cannabis in large quantities. Many, many communities use cannabis…. One thing that frustrates me is our national politicians having their head in the sand and pretending this isn't really happening… What I want to do is have a cool, calm, sober look into this issue before the commission makes a recommendation."
Comments