in
Cooking
Infused Butter-Garlic Shrimp
A savory dish that's sure to satisfy your taste buds and guests while easing your body and mind.
Posted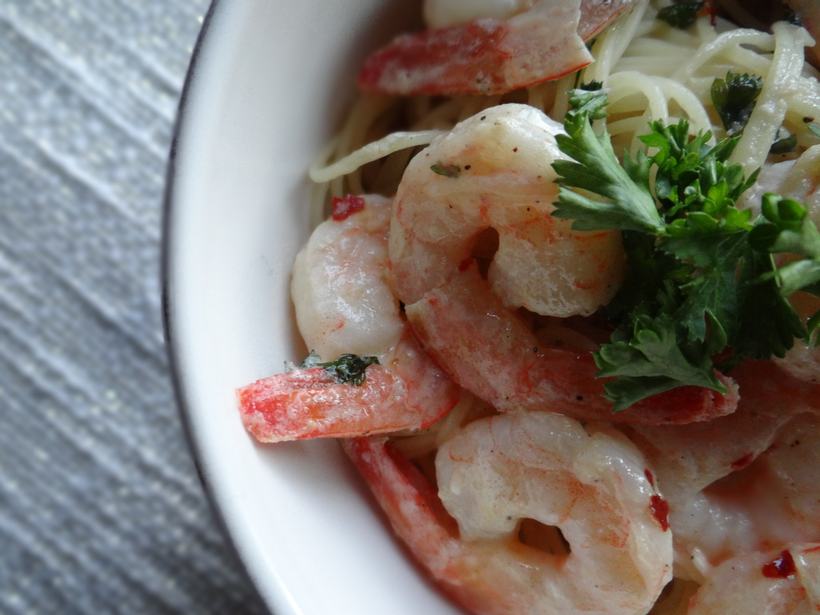 Shrimp is a versatile food, being a great entrée, side, or appetizer for nearly any meal. The only thing that can make it better is dousing it in a dose of your favorite herb – which this recipe just happens to show you how to do. It calls for CannaButter, so ensure you've some on hand. It also asks for you to use Infused Olive Oil, but if you don't have this specific ingredient on hand, you can use normal olive oil.
Ingredients Needed:
1 pound shrimp, peeled & deveined (about 12-15)
2 tablespoons Infused Olive Oil
½ cup CannaButter (8 tablespoons)
6 minced garlic cloves
¼ teaspoon red pepper flakes
3 tablespoons lemon juice
1/3 cup chopped parsley
Salt to taste
Angel hair pasta (optional)
Materials Needed:
1 large skillet
Slotted spoon
Medium bowl
Prep Time: 10 minutes
Cooking Time: 15 minutes
Infused Butter-Garlic Shrimp Recipe
1. Oil Pan & Heat
A. Place Infused Olive Oil in skillet and stove on medium. Wait for oil to heat.
B. Place shrimp evenly in skillet and cook for a several minutes without stirring.
C. Season shrimp with salt, then stir until shrimp begin to pink.
*Note: Do no overheat as this will vaporize the THC and CBDs in the Infused Olive Oil. Stay at 315 degrees or below.
2. Add Ingredients
A. Add minced garlic, red pepper flakes. Cook for another few minutes.
B. Add half the CannaButter, lemon juice, and half the parsley. Cook for another 3-5 minutes, then reduce heat to low.
C. Ensure butter has fully melted before adding the rest of the butter. Stir and allow buttery sauce to thicken after a few minutes as shrimp finishes cooking.
3. Remove from Heat
A. Use slotted spoon to pick up shrimp, ensuring they're pink and fully cooked.
B. Place shrimp in bowl, tossing with remaining parsley.
C. Continue to cook sauce in skillet. If too thick, add a teaspoon of water.
D. Season sauce with salt to taste.
4. Plate Placement
Serve shrimp either separately or on angel hair pasta with pan sauce drizzled over them.
FIN
Instead of using angel hair pasta, Infused Butter Garlic Shrimp can also be served alongside a steak, as a side, or as an appetizer for a meal. Click here for our Infused Steak Marinade recipe or here if you still need to make CannaButter.
Comments