in
Culture
Eight Easiest Cannabis Strains for Beginner Cultivators
Try one of these strains when you start growing.
Posted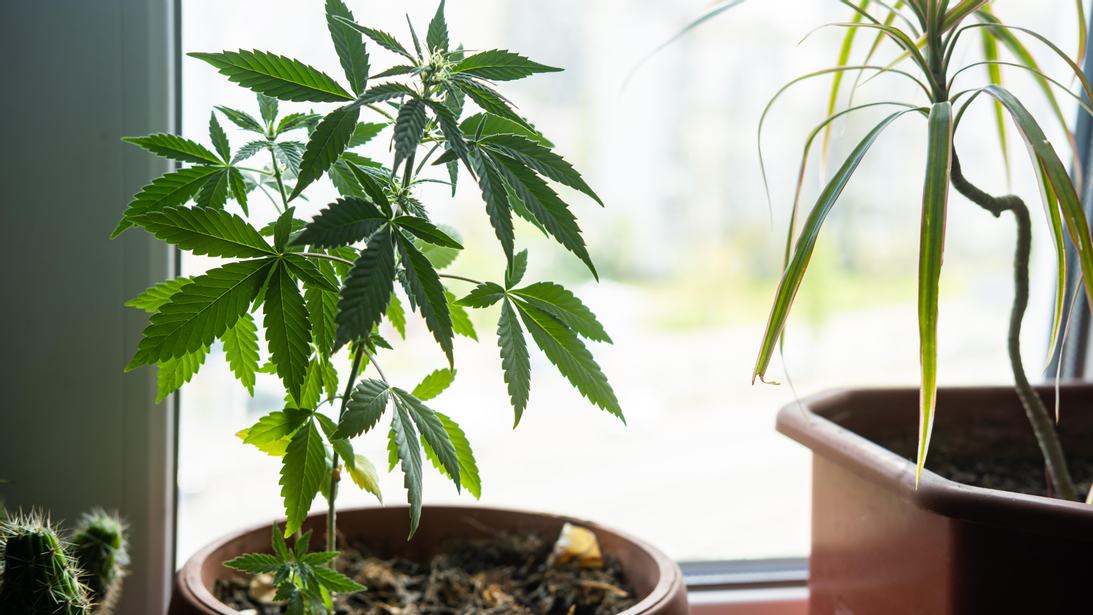 For any devoted cannabis user, there comes a time when you may want to try out the process of growing for yourself, if only to understand the plant you love a little bit better. However, some strains are easier to grow than others. While there's nothing wrong with starting with a few seeds and seeing which ones take off for you, today's cannabis consumer may want to start with what they know they like. Luckily, there's plenty of strains that hit the sweet spot of potency, ease of growth and a relatively short growing period. Following are eight strains which everyone can start with. Some are very well known; others are a little bit more obscure. But they'll all deliver for you as you're beginning to develop your green thumb.
Blue Dream
Grow Time: 9-10 weeks
Source: Seeds
This well-known sativa dominant strain not only possesses a tasty and spicy aftertaste, but it's also perfect to start out. It flourishes in various growing conditions and produces heavy yields — so heavy that you may want to think of a trellis in order to support its massive buds. It will also take in heavy amounts of nitrogen — a heavy fertilizer — without burning, which is a plus for first-timers.
Northern Lights
Grow Time: 6-7 weeks
Source: Seeds or Cuttings
You won't have to wait too long to sample the bounty from this classic Cali strain. It's highly resistant to disease, and it grows great indoors, which makes it great for any urban cultivators. Since you can also grow it from cuttings, you can continue to grow this for generations.
Cinex
Grow Time: 6-8 weeks
Source: Seeds
Cinex, a classic hybrid leaning only slightly towards sativa-dominant strain, stands out for its tolerance to minor fluctuations in light and temperature, making it forgiving to rookie mistakes. It is also praised for its high-yield and mold-resistance, not to mention its short growing period and generous yields.
White Widow
Grow Time: 8-9 weeks
Source: Seeds
You'll be pleased to note that this classic Cannabis Cup winner, while a bit longer with its grow cycle, is a relative cinch to grow. Think resilience here — while it prefers temperate climes, it can withstand variations in temperature within reason. It thrives in both soil and hydroponic setups, offering flexibility for novice growers. Keep in mind you may only get so much cannabis from this one — but it will be great cannabis, for sure.
Royal Dwarf
Grow Time: 6-8 weeks
Source: Seeds or Cuttings
True to its name, this sativa-dominant strain is very short, but it will definitely produce more than enough buds to tide you over. It's as close to a set-it-and-forget-it strain as you can get, and it can withstand colder temperatures. A perfect strain for the closet — in fact, Royal Queen Seeds, the company behind the genetics, designed it for exactly that.
Green Crack
Grow Time: 7-9 weeks
Source: Seeds or Cuttings
A well-known outdoor strain, Green Crack can take up a LOT of room, so be sure not to skimp on the trellising. Because of its susceptibility to molds, you will have to watch this one a bit more closely. But it's a great producer with a fast flowering time.
Blue Cheese
Grow Time: 8-10 weeks
Source: Seeds
Blue Cheese is heavy on the indica, and prized for its unique aroma and flavor. And it's a hardy plant, too, almost impossible to overfertilize, which fights off molds and infections like a champ. It tends to favor cooler climes, so it's best for growing indoors, or in chillier areas with light breezes.
Bubblegum
Grow Time: 8-9 weeks
Source: Seeds or Cuttings
Bubblegum is an evenly balanced hybrid that is especially loved for its sweet, bubblegum-like aroma — which is VERY strong, so it will be hard to conceal. However, it's easy to clone, so like Northern Lights, you can grow this one over and over again. Its moderate height — think four-five feet — and predictable growth patterns make it easy to manage for novice growers. And when you're ready, it lends itself well to cross-breeding, as the plethora of Bubblegum hybrids can attest to.
Comments