in
Culture
13 Powerful Women in Cannabis Industry: Celebrating Women's Equality Day
These women are changing the industry & how the plant is perceived.
Posted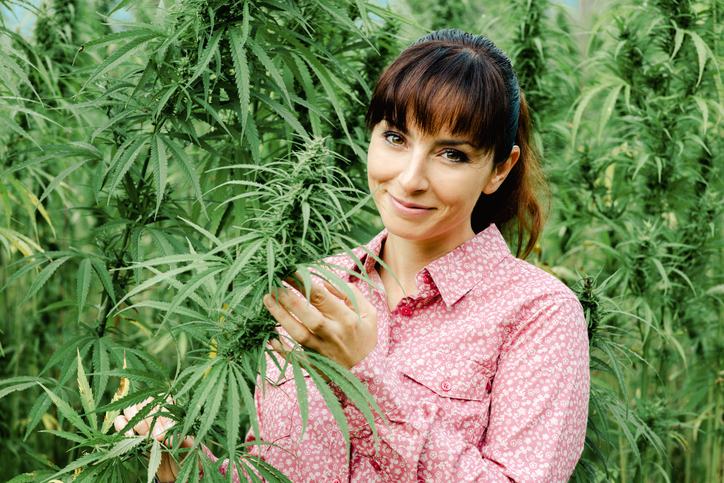 Women's Equality Day on August 26th commemorates the 19th Amendment which states that the right for citizens to vote "shall not be denied or abridged by the United States or by any State on account of sex". It was a needed breaking point in the progression of women's equality in America, subsequently leading towards the evolution of women's roles in society beyond voting for political leaders.
The cannabis industry is a diverse one, with business owners coming from all backgrounds, ethnicities, and both genders. The great majority of history has seen men rule trade, cultivation, and medicine, however, the hard work of our female ancestors in fighting for equality has pushed us towards fashioning a more balanced playing field in most industries.
Cannabis is no exception. In honor of Women's Equality Day, here's a list recognizing 13 powerful women bossing the industry:

Discover More: 8 Ways Weed Can Improve Fitness & Health

Giadha Aguirre de Carcer
Founder of New Frontier Data
Created cannabis analytics company that tracks the plant's evolution as the industry grows. Crafts compelling graphics that are consistently cited by leading publications.

Dr. Lakisha Jenkins
Herbalist
Fashions natural herbal remedies for patients incorporating cannabis and ancient healing techniques. Doctorate in naturopathy. Founding board member of California Cannabis Industry Association. Member of American Herbalist Guild.

Rachel K. Gillette
Attorney
Practices in corporate licensing compliance, tax law for cannabis businesses, along with operations and regulations of cannabis businesses in Colorado. Advocates for cannabis legalization. Has practiced since 2010. Enjoys helping victims caught in the tangle of America's War on Drugs.

Ophelia Chong
Founder of Stock Pot Images
Provides industry with wide range of cannabis images/photography used by businesses, news, journalism, etc. Has helped change public perception of plant by providing high-quality professional photography.

Charlo Greene
Founder of Alaska Cannabis Club
Entrepreneur. Founder of not only the Alaska Cannabis Club but Go Greene, a cannabis diversity summit series. Popularized by her statement "F*ck it, I quit" on live CBS news after declaring herself as the founder of the cannabis club. Advocates for its legalization and was attending court with convictions surmounting to 54 years in prison for her involvement with cannabis. Never backed down.

Darby Cox
Co-Founder of Smoke Cartel
CEO of highly successful cannabis accessory retailer. Provides products to public for all ranges of lifestyles.

Jessica Peters
President of Moxie Meds
Operates business famous for its CBD-rich cannabis tinctures made for women that incorporate organic basic extract, naturally extracted beta-caryophyllene, and organic strawberry extract (for balancing flavor profile). Assists patients with various ailments ranging from physical to mental.

Laura Harris
Executive Director of Colorado Cannabis Chamber of Commerce
Worked for government 30 years before taking lead role in Liquor Enforcement Division subsequently followed by taking over Marijuana Enforcement Division. Now taking part as Executive Director of Colorado Cannabis Chamber of Commerce.

Shanel Lindsay
Founder & President of Ardent
Ardent is a company that created the first product that decarboxylates cannabis, activating THC, without using heat. It's a chemical formula that takes one hour and 15 minutes to work after combining it with cannabis. At the forefront of cannabis technology.

Jaime Lewis
Founder of Mountain Medicine
A chef of medicated edibles. Experience working as an executive chef. Specializes in supporting local Colorado farmers while providing safe medicated food as an alternative to smoking/vaping for patients.

Mary Jane Gibson
Culture Editor of HIGH TIMES
In charge of entertainment, lifestyle, and reviews of HIGH TIMES publication founded in 1974. Helped open publication's West Coast office.

Jane West
CEO of Jane West
Crafted own business focused on cannabis lifestyle. Co-founded Women Grow which holds networking events in 40+ cities across U.S. & Canada that advises women on how to enter industry successfully.

Amy Poinsett
CEO & Co-Founder of MJ Freeway
Crafted systems/software for growers to track inventory. Leading way in cannabis technology. Assists in regulating industry.

Know a woman making a difference in the cannabis industry? Leave us your thoughts in the comments below! We want to know!