in
Cooking
CannaHoney Fruit Salad
A rainbow of Earth's fresh flavors infused via honey.
Posted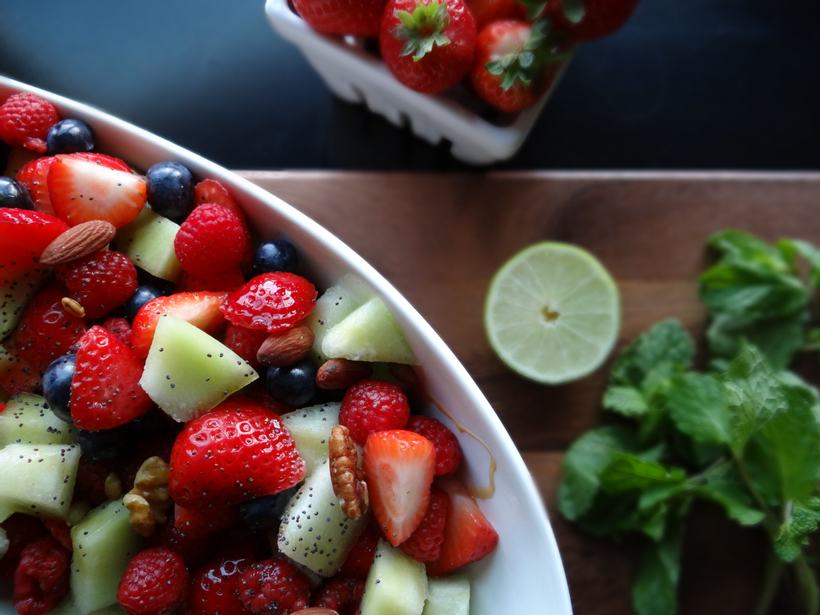 Composed of a plethora of fruits, the colors of this salad can be mesmerizing: Frosted-violet blueberries, red-rich strawberries, the mellow green of honeydew, and the vivacity of mandarin orange. You'll either want to devour it immediately or take pictures of it.
Luckily, the taste is as delicious as its beauty and one of the healthier ways we can consume our cannabis. Ensure all chosen fruits are ripe and consider the time of day you'll be eating this salad versus the effects of the strain your honey is infused with. You wouldn't want to eat this for breakfast using honey infused with a heavy indica unless you plan to sleep all day.
Ingredients Needed:
¼ cup of CannaHoney
1-2 juiced limes to taste
10-15 sliced Strawberries
2 handfuls of Blueberries
½ Honeydew scooped or chopped
2 sliced Bananas
2-3 Mandarin oranges, peeled (or from can)
Sprinkle of Ground Mint
¼ teaspoon poppy seeds
Handful of nuts of choice (almonds, walnuts, hazelnuts, pine nuts, etc.)
*Note: Potency of fruit salad depends upon potency of CannaHoney used. Add/subtract according to own tolerance levels.
Materials Needed:
Small bowl
Mixing spoon
Large bowl
Knife & cutting board
Melon Baller (optional)
Prep Time: 15 minutes
Cooking Time: N/A
CannaHoney Fruit Salad Recipe
1. Create Honey Sauce
A. Mix CannaHoney and lime juice together in small bowl using spoon, starting with the juice of one lime.
B. Taste mixture and add more lime juice to reach taste & consistency desired.
2. Prep & Combine Ingredients
A. Slice/chop/ball all fruits & place in large bowl.
B. Pour honey-lime mixture over fruit, then mix until all fruit pieces are covered.
3. Garnish
Sprinkle poppy seeds, ground mint, and/or nuts on fruit to add flavor diversity and/or protein.
That's all there is to it! You can always experiment by trying this recipe with lemon or orange juice in place of lime juice. Click here to learn how to make CannaHoney if you haven't already
Comments