in
Cooking
BBQ Chicken Pizza
Homemade pizza using infused barbeque sauce for a sweet and tangy twist.
Posted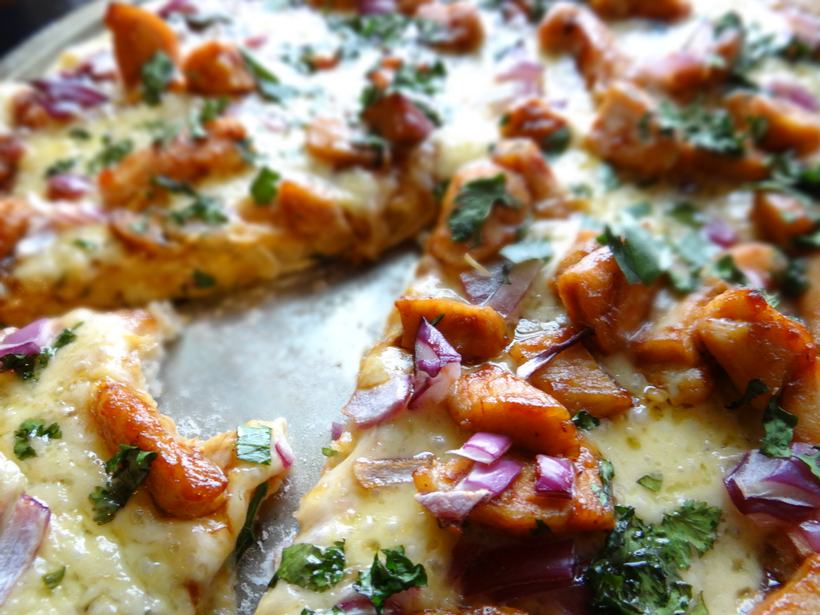 This isn't your average pizza. It's got chicken covered in cannabis-infused sweet and tangy barbeque sauce, onions, and a mass of cheese – all topped on a thick homemade crust that's perfect for beating the munchies. Whether you're sharing with friends or making it just for yourself, this recipe is sure to satisfy all.
Ingredients Needed:
For the Crust…
2 ¼ teaspoons yeast
1 1/3 cups warm water
3 ½ cups flour (+ more as needed)
2 tablespoons Infused Olive Oil
¾ teaspoon salt
1 tablespoon sugar
For the Topping…
½ cup Infused Barbeque Sauce
1 cup cooked, sliced chicken breast (or thighs if dark meat is preferred)
2/3 cup shredded mozzarella cheese
2/3 cup shredded smoked gouda cheese
½ thinly sliced red onion.
Cilantro, to top
Any other toppings your taste buds crave
Materials Needed:
Crust…
Large bowl
Mixing spoon
Baking Sheet
Toppings…
Grater (if grating blocks of cheese)
Knife & cutting board
Large bowl
Prep Time: 25 minutes collectively + 1-3 hours for dough to rise
Cooking Time: 15 minutes
BBQ Chicken Pizza Recipe
The Crust…
1. Proof the Yeast
A. In large bowl, mix together yeast and warm water.
B. Allow to sit for 5-10 minutes until yeast foams; dissolves.
C. Add flour, olive oil, salt, sugar and mix by hand for about one minute.
2. Knead Bread
A. Knead about 7-8 minutes. If too wet, add ¼ cup flour. If too dry, add 1 tablespoon water.
B. When dough is smooth & elastic, dough's ready to rise (when poking with finger, dough should bounce back).
3. Allow to Rise
A. Take cleaned, large bowl and place a small amount of olive oil inside.
B. Roll dough into ball and place in bowl, turning it around to cover whole ball with oil.
C. Cover bowl tightly with saran wrap & allow to rise. To speed this up, allow oven to warm to 200 degrees F, turn it off, keep the door ajar, and place bowl inside.
D. After 1-3 hours (depending on yeast), dough should double in size when it's ready.
4. Release Air Bubbles
Take dough out of bowl and punch down on it to release air pockets.
5. Divide & Prep
A. Separate dough into two balls. Either use one or both to fashion one or two pizzas. Dough can be placed in freezer; frozen for later use.
B. Preheat oven to 425 degrees F.
C. Grease baking sheet with olive oil.
6. Prep Toppings
(See below for details on prepping barbecue chicken toppings)
7. Flatten & Sit
A. On lightly floured surface, flatten & stretch dough into 12-inch circle.
B. Pinch edges of dough to create lip around edges (to ensure toppings don't fall off).
C. Brush top of dough with olive oil.
D. Allow dough to sit for 15 minutes before adding toppings.
8. Bake
A. Bake crust at 425 degrees F for 7 minutes.
B. Pull crust out of oven and lower temp to 325.
C. Add toppings on top of crust.
D. Place back in oven, finish cooking for 7-15 more minutes until edges brown.
*Note: Step 8 is fashioned to ensure crust completely cooks without vaporizing cannabinoids in barbecue sauce.
For Toppings…
1. Coat Chicken
Toss cooked chicken and half of Infused barbeque Sauce together in bowl.
2. Top Crust
A. Cover crust with rest of Infused barbeque sauce after it's cooked for 7 minutes (step 8A). Add more/less depending on your taste & how infused you wish the pizza to be.
B. Layer rest of toppings on: mozzarella, BBQ chicken, gouda, onion slices.
3. Finish Baking
A. Finish baking pizza for 7-15 minutes at 325 degrees F until edges brown (step 8D).
B. Once done, top with cilantro and enjoy!
FIN
This recipe doesn't have to be done crafting homemade dough – it's easier to purchase pre-made pizza crusts at your local grocer, but may not taste as delicious! Just be sure to follow the instructions on how to bake the crust while keeping in mind that many cannabinoids will vaporize around 325 degrees F. While it's okay to cook infused ingredients in an oven higher than that (since the food itself is cooler than the oven cooking it), it's not recommended. Want more recipes using Infused barbeque Sauce? Click here to view 9 Piquant Entrees Using Infused barbeque Sauce.
Comments