in
Travel
How Amsterdam Coffeeshops Started Selling Cannabis as well as Coffee
The coffeeshop culture and where it began.
Posted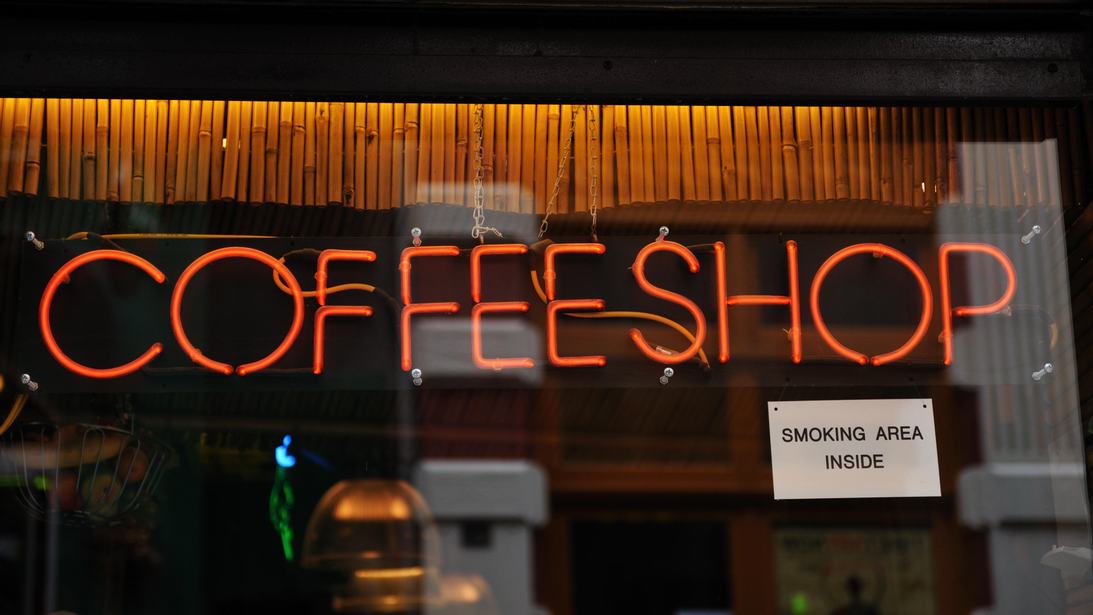 Around the world, Amsterdam is as well-known for its cannabis-selling coffeeshops as it is for its canals. And while it's never been easy to run a coffeeshop anywhere in Holland, they've survived raids, hostile and ever-shifting political forces and a global pandemic ever since the late '60s. When Mellow Yellow, the first Dutch coffeeshop, opened in 1972, cannabis was still an illegal, furtive activity. However, successive shop owners soon realized that they could get away with selling cannabis as long as they followed a few ground rules. This led to the famous "coffeeshop culture" that brought tourists around the world to sample their wares.
However, the success of the coffeeshops brought struggle. The introduction of Weed Passes in most Dutch cities barred all but local residents from purchasing from the coffeeshops and even this year, movements from Amsterdam's mayor have sought to close them down altogether. Some of these moves have drastically winnowed down the number of coffeeshops that still sell cannabis. Even Mellow Yellow had to shut down its store for good in 2017. But cannabis, as we all know, perseveres in even the most inhospitable climes. So, for those interested in seeing how the coffeeshops came to be, how they conduct their shaky truce with the Dutch government and what may happen to them next, read on.
Humble Beginnings of The Amsterdam Cannabis Coffeeshop
Before the coffeeshops, there was no centralized places to go and purchase cannabis, although the centrally located Vondelpark in Amsterdam served as an early gathering place for consumption. However, those who purchased from dealers also ran the risk of being upsold on harder drugs their dealers might also carry. An early tea house which gave out free hash joints named Kink 22 opened in 1967, but the emergence of Mellow Yellow — named after the Donovan song — created the model which all future coffeeshops would follow: keep a low profile and sell hashish (which is what most Europeans smoked in the '60s and '70s; smokable flower grown domestically would come later in the century.) along with the coffee and tea and let the consumers roll in. This model would be duplicated by the Bulldog Cafe in 1975 after a previous attempt by the owner to sell cannabis from his father's sex toy store. In 1976, Dutch authorities moved to decriminalize cannabis, and developed a policy, based around a harm reduction-derived distinction between "hard' and "soft" drugs, that would shape Dutch drug policy for decades to come.
Coffeeshops, as we know them, were not only about selling cannabis; they became safe places for people to gather and consume it without fear of arrest. This is not to say that the police never raided coffeeshops or shut them down — they frequently did, especially in the '70s — but these actions were eventually overcome by the strong support and advocacy coffeeshops mustered from their clientele, as well as their adherence to a drug war detente between themselves and city and state authorities.
The Dutch government has always been ambivalent about the coffeeshops; they've never been legal, but they've also never been illegal, operating in a quasi-legal grey area. Similar to the Obama-era Cole Memo, cannabis selling was tolerated as long as coffeeshops followed a few grand rules: do not sell to minors, disturb the neighbors, sell hard drugs, sell more than five grams or advertise.
After The Wiettop
In 2008, the mayors of 33 Dutch cities gathered to discuss cannabis tourism and the coffeeshops at a summit called the "wiettop," named after the high-potency cannabis "tops." At the time, there were 500 coffeeshops in Amsterdam alone, and some of the border towns were considering shutting them down altogether. Particularly with regard to the "backdoor" of Holland's coffeeshops, it was clear that some regulation was needed.
The Dutch coffeeshop model allows for on-premises "front door" sales of cannabis but procuring the cannabis in the first place requires purchase from illegal "backdoor" suppliers. Most mayors agreed at Wiettop about regulating the backdoor and creating a legal supply for coffeeshops, but there is still some resistance to legitimizing the coffeeshops over a decade later.
Then in 2020, the pandemic hit. Coffeeshops were deemed essential businesses during the pandemic and were allowed to remain open, although they were only allowed to do delivery and take-out orders. This change in policy led to many coffeeshops struggling to stay afloat, as the social aspect of their business was no longer possible. Now, many coffeeshops in Amsterdam resemble the American retail model, where people buy their cannabis and then leave immediately.
As of 2022, the Amsterdam coffeeshop industry is currently in conflict with the city mayor, Famke Halsema. Halsema wants to ban non-locals from the coffeeshops, and also close down 100 coffeeshops - about 2/3rds of the total. The country is also beginning a cultivation trial, experimenting with supplying 10 cities with a legal supply of cannabis and determining the results, starting next year. Halsema believes that blocking tourists from coffeeshops is the best way to conduct this trial in Amsterdam.
As a model of cannabis culture, the Dutch coffeeshop has inspired a growing industry throughout the world. Like many cannabis businesses, they've had to remain nimble in order to survive, and its survival has never been a given. The next few years will be crucial for the future of the Dutch coffeeshop, and its impact on cannabis culture globally.
Comments