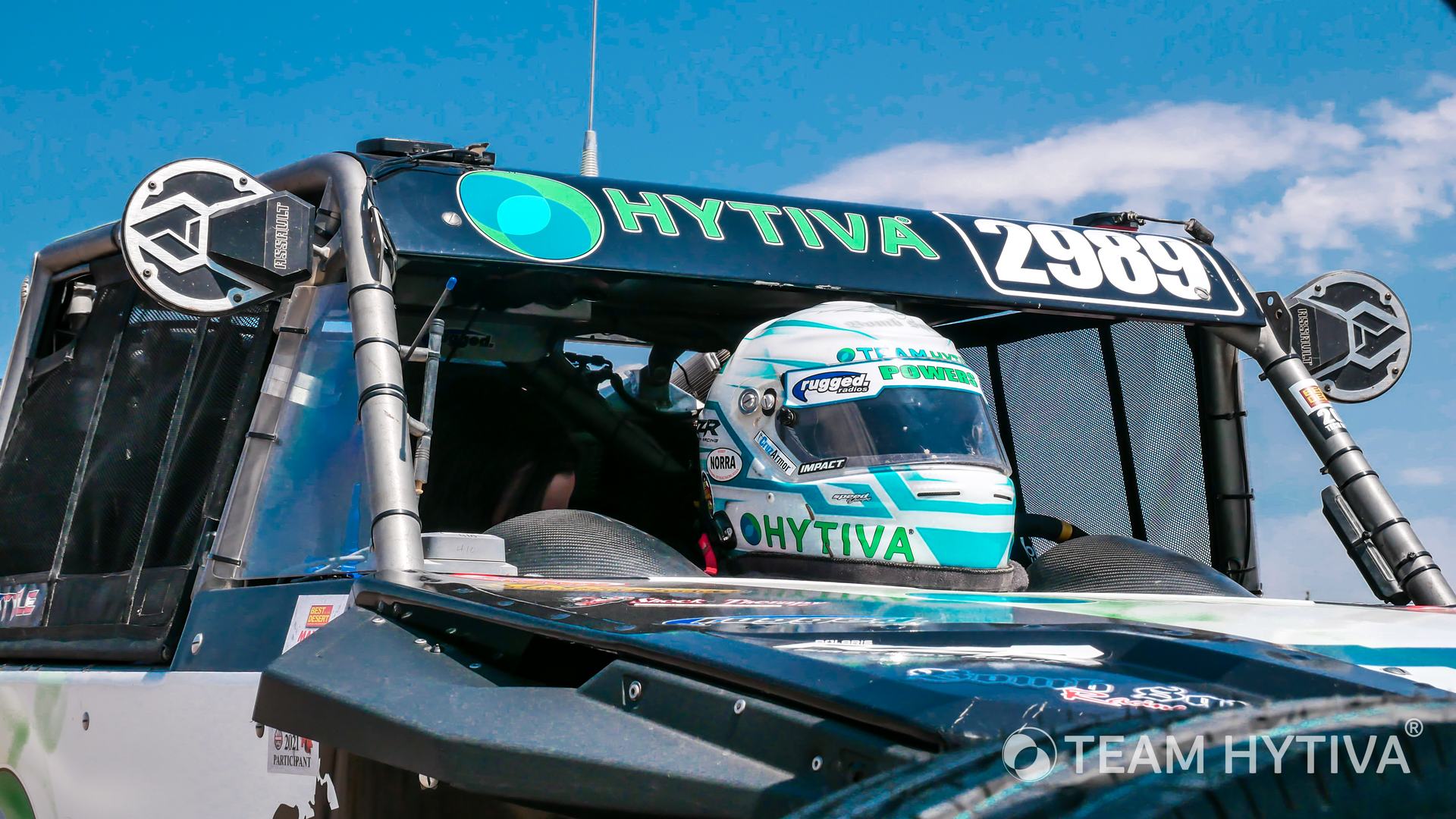 2021 Vegas to Reno Race Day Recap
Race Start
10am was the start time for the first car/truck/utv to go off the line. Out of 32 classes, the UTV Unlimted class was 14th. Racers made final preparations and staged their vehicles as they inched closer to the start.
Race day start was anything but smooth for Team Hytiva's Wes Miller. Still battling mechanical issues from testing, the team worked hard all the way up to the very last minute before having to leave for the race. The work was getting done back at the shop in Las Vegas, so the team still had a two and half hour drive to the start line which was located northwest of Las Vegas in Bonnie Claire!
The Team Hytiva production crew planned to go out early and capture footage of Wes at the start. They made it out to Bonnie Claire and setup knowing there would be a little time before his class started. The time came for them to stage, but the Team Hytiva Polaris RZR was not with the other UTV Unlimited competitors. Seeing that they had not showed up yet, the production crew knew the issues had to be serious.
Wes and co-driver Donny Powers finally arrived with the car put back together and only had minutes to get ready. They jumped into the Team Hytiva Polaris RZR, backed it off the trailer and headed straight to the start.
After starting the race, Wes and Donny immediately ran into problems only 5 miles in. They blew a belt and noticed temps and other issues were not right. Realizing that they would not be able to finish, they were forced to make the difficult decision of ending the race early.
The whole team had worked countless hours to get the car prepped and were disappointed they could not defend last year's crown. Though this year's Vegas to Reno race brought many challenges, the team is hungrier than ever and is focused and composed for the next race in Ensenada, Baja Mexico.
Below are the final results for the UTV Unlimted class.
UTV Unl - Class Results
1 - 2924 - Randy Raschein - Brownsville, OR - CAM - 1 - 09:50:54.832
2 - 2915 - Jim Beaver - Parker, AZ - POL - 1 - 09:52:40.205
3 - 2901 - Michael Isom - St George, UT - CAM - 1 - 10:10:30.486
4 - 2983 - Nicholas Gurries - Fremont, CA - POL - 1 - 10:34:18.126
5 - 2982 - Nicholas Shearer - Riverside, CA - CAM - 1 - 10:36:17.392
6 - 2938 - Michael Mcfayden - Redlands, CA - CAM - 1 - 11:23:16.389
7 - 2998 - Cameron Ornelas - Phoneix, AZ - CAM - 1 - 11:35:31.481
8 - 2981 - Rodney Ryburn - Mesa, AZ - UNK - 1 - 11:52:09.522
9 - 2977 - Brent Tipps - Keller, TX - CAM - 1 - 12:00:17.444
10 - 2927 - Trey Gibbs - Murrieta, CA - POL - 1 - 12:18:56.806
11 - 2996 - Brook Jensen - Pinon Hills, CA - POL - 1 - 12:31:29.705
12 - 2969 - Cheyne Dewolfe - Buckeye, AZ - CAM - 1 - 12:38:29.092
13 - 2943 - Ken Criswell - Conroe, TX - POL - 1 - 13:17:50.458
DNF - 2920 - Cindy Aguilera Cobian - Claremont, CA - POL - 0 - 00:00:00.000
DNF - 2909 - Lacrecia Beurrier - Lake Havasu City, AZ - POL - 0 - 00:00:00.000
DNF - 2910 - Chris Blais - Apple Valley, CA - CAM - 0 - 00:00:00.000
DNF - 2993 - Joe Fitos - Wellington, FL - CAM - 0 - 00:00:00.000
DNF - 2984 - Randy Jelleff - Beaverton, OR - POL - 0 - 00:00:00.000
DNF - 2951 - Herman Johnson - Rio Rancho, NM - CAM - 0 00:00:00.000
DNF - 2970 - Michael Mack - Peoria, AZ - CAM - 0 - 00:00:00.000
DNF - 2958 - Michael Mamelli Jr - Costa Mesa, CA - POL - 0 - 00:00:00.000
DNF - 2999 - Sonny Midson - Hurricane, UT - CAM - 0 - 00:00:00.000
DNF - 2989 - Wes Miller - Las Vegas, NV - POL - 0 - 00:00:00.000
DNF - 2940 - George Pondella - Glendale, CA - CAM - 0 - 00:00:00.000
DNF - 2973 - Katie Vernola - Yorba Linda, CA - POL - 0 - 00:00:00.000
DNF - 2975 - Travis Zollinger - Logan, UT - CAM - 0 - 00:00:00.000