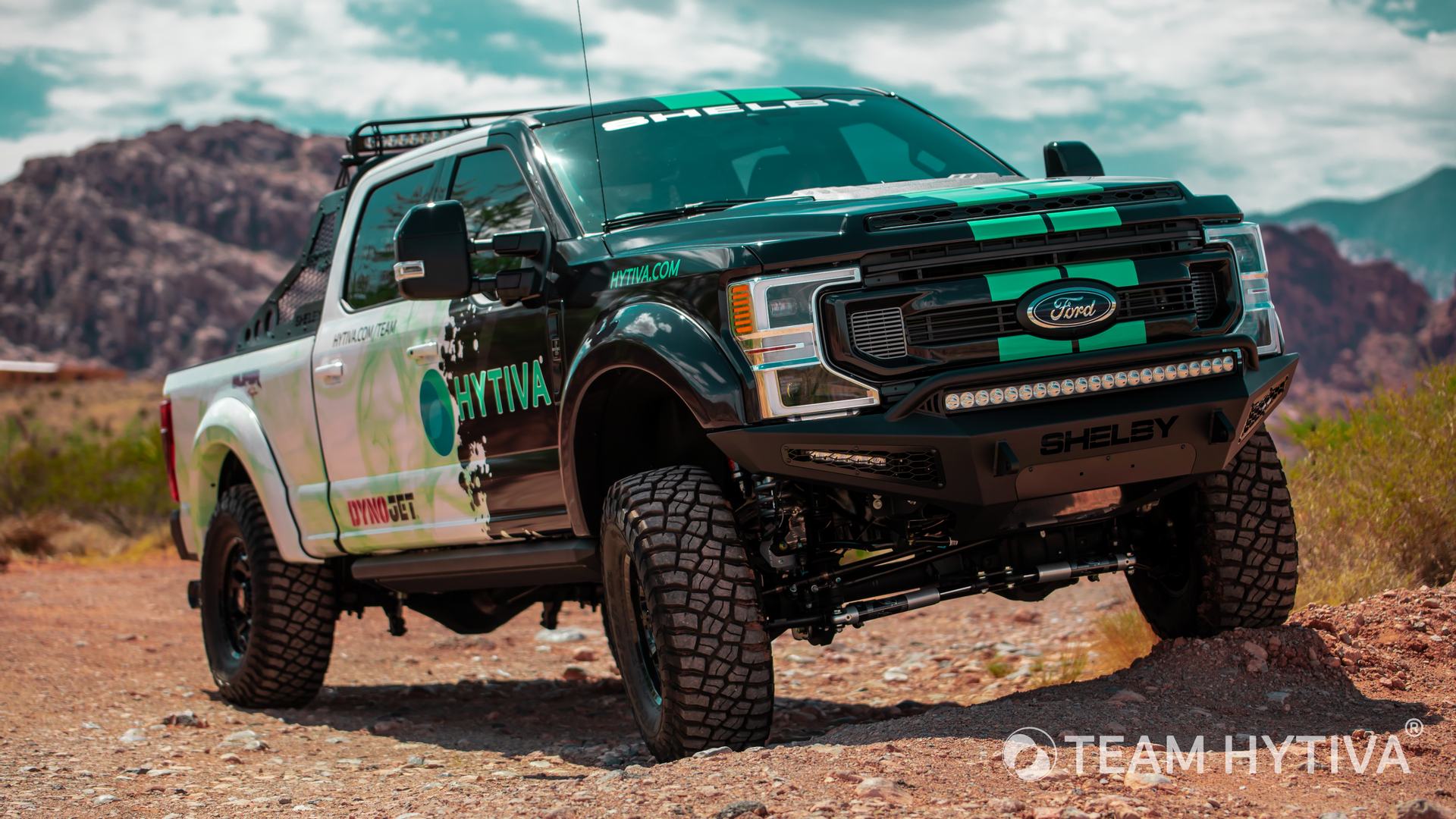 Team Hytiva® Ford F-250 Shelby Super Baja
Shelby F-250 Super Baja that everyone has been waiting for
With the Ford F-250 Shelby Super Baja prepped, Team Hytiva is ready to go as we support our racers during the second half of the race season. Just like our racers, this truck is built tough and ready to tackle any challenge.
Shelby did an incredible job building this limited edition Truck. Based off the F-250 chasis, the Super Baja combines the power of Ford's 6.7L Power Stroke V8 Turbo diesel engine and Shelby by FOX's tuned off-road suspension.
The most notable features are the large fender flares, wheels and tires, lifted suspension, front and rear light bars, 2 large spare tires with chase rack, and obviously the famous Shelby racing stripes.
Wheels and Tires
Traction and grip are very important; The Super Baja does not lack in this area. The truck comes outfitted with massive 18-inch alloy wheels wrapped in BFG KM3 37-inch tires. Two full size spares are also included and mounted to the Super Baja chase rack in the bed.
Suspension
Moving from the ground up, the specifically designed Shelby by FOX suspension system handles a wide range of terrain from regular street driving to off-road adventures. This is one serious system...those features include:
Custom BDS lift system
Custom front radius arms
Adjustable upper control arms
FOX 2.0 dual steering stabilizer
Fully adjustable front coilovers with FOX 2.5 adjustable reservoirs
Front 2.5 FOX backup adjustable reservoir shocks
Rear 2.5 FOX Factory Race adjustable shocks with piggyback reservoirs
Exterior
To help getting in with the taller suspension, the Super Baja is outfitted with AMP Research XL power steps with rock sliders and lights. Large painted fender flares give clearance for the suspension and tires to work their magic.
Moving to the front, the steel front bumper is powder coated black and includes tow points and air flow vents.A 40" curved LED light bar and two 11.75" LED drive lights light the way for what's up ahead.
The rear bumper is also made out of steel, powder coated black, includes two 11.75" LED drive lights, puddle lights and a tow package.
The tailgate can be opened manually or by clicking a button on the key fob that automatically opens it. Once the tailgate is down you will notice Ford's integrated tailgate step and grab bar. This system easily allows you to safely get into the bed of the truck.
Once inside the bed, you will notice the spray in bed liner, powder coated Super Baja Chase Rack System with spare wheel and tire mounts and 50" power actuated LED light bar.
Engine
Ford's Best-in-class 6.7-liter Power Stroke V8 Turbo Diesel engine is rated at 475 horsepower at 2,600 RPM and 1,050 lb.-ft of torque at 1,600 RPM.
Interior
Quality doesn't stop with the exterior. As passengers step inside the Super Baja, they will notice the beautiful leather wrapped seats with red stitching, embroidered Shelby logo and custom grommets - which pay homage to the race cars of the 60's!
Accenting the front and rear leather seats are carbon fiber and wood trim, stainless steel gauges, Shelby Super Baja Badging, Embroidered floor mats and billet racing pedals. Since this is a limited edition truck there is also a CSM serialized plate on the dash.
The Ford F-250 Shelby Super Baja commands like no other.
Gallery