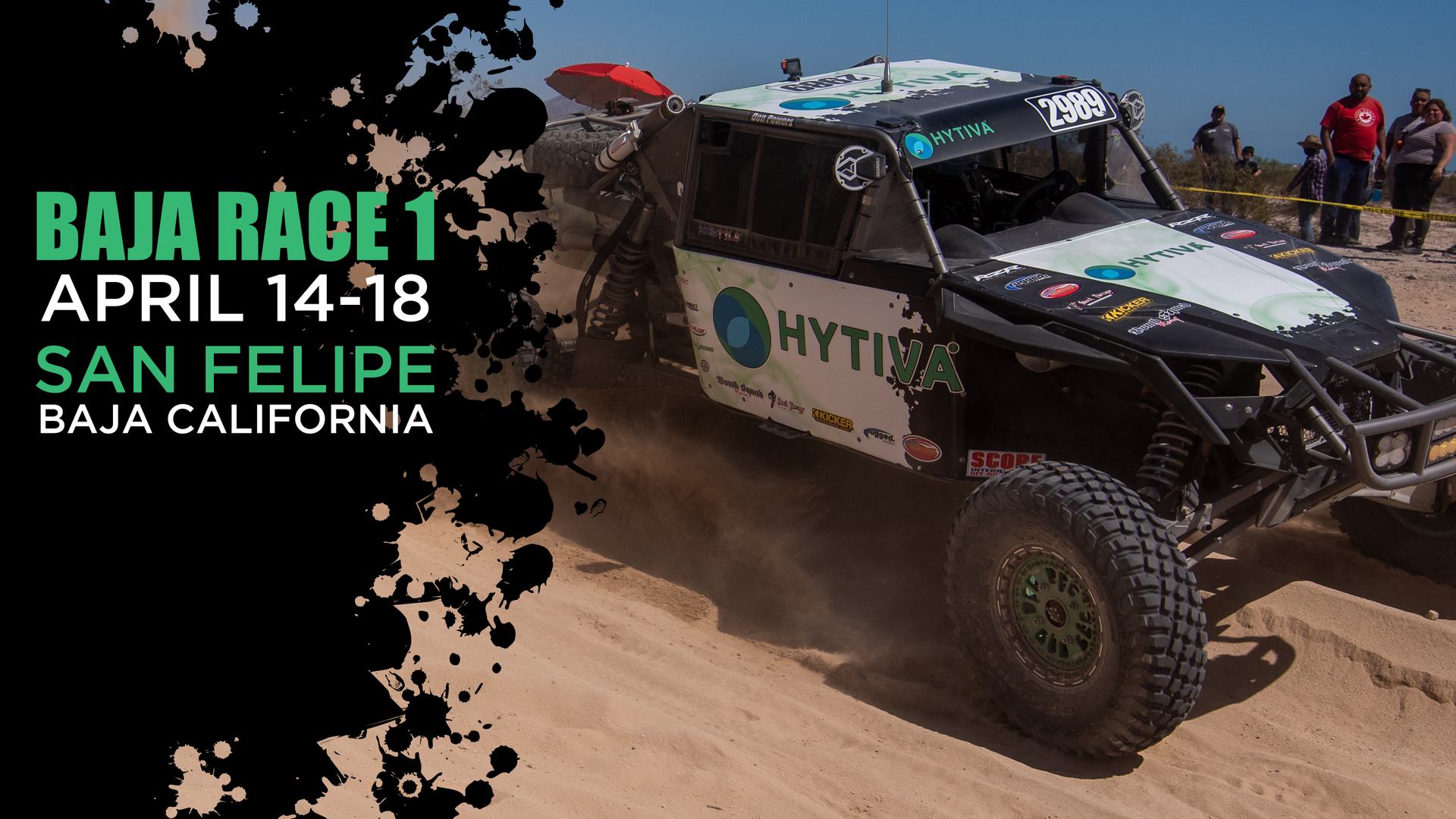 San Felipe Baja Mexico Race April 2021
About San Felipe Baja Mexico Race April 2021
The first round of the 2021 season kicks off in San Felipe Baja, Mexico.
In the town located on the the Sea of Cortez in Baja California, Mexico, over 270 racers are expected to take off from the start/finish line at El Dorado Ranch. These entrants come from all over representing 26 states, 10 countries and counting! With 51 classes offered for Pro and sportsman, racers can compete in Cars, Trucks, UTVs, Motorcycles and Quads.
The popular Trophy Truck division will be the ones to watch with 35 official entrants. These 950-horsepower trucks epitomize off-road racing!
For this 250 mile race in San Felipe Mexico, Wes Miller representing Team Hytiva had to show an extreme amount of patience to ensure his vehicle made it across the finish line. From the start Wes noticed the Team Hytiva Polaris RZR was running hot, and having trouble in the higher gears.
The discipline Wes showed by not over-exerting the vehicle demonstrated the mastery required to compete at the world's highest level. This earned Team Hytiva a 3rd Place podium finish and a solid start to the 2021 points race.
Viewers can still catch the race which is being televised on a delayed basis on the World of X Games show on ESPN2.
Stay tuned for more updates....exciting things to happen with Team Hytiva®!
April 14-18, 2021—280.2 miles – San Felipe, Baja California, Mexico
Schedule of Events (All Times are Pacific Time)\
Wednesday, April 14, 2021 (Times are PDT)
By Appt. – Chassis Inspection, Pre-Tech/Stella kits, call 619.572.8245
2pm-6pm – Media Registration, Pavilion at El Dorado Ranch
3pm-8pm – Qualifying Teams Registration, Pavilion at El Dorado Ranch
Thursday, April 15, 2021 (Times are PDT)
7am – Qualifying-Trophy Truck, TT Legend, Class 1, Trophy Truck Spec
9am-5pm – Chassis Inspection/Tech Inspection/Trans Ck/Stella Install, Pavilion at El Dorado Ranch
9am-7pm – Racer Registration (no new entries after 6pm)*,* Pavilion at El Dorado Ranch
1pm-5pm – Media Registration, Pavilion at El Dorado Ranch
Friday, April, 16, 2021 (Times are PDT)
8am-4pm – Racer Registration (no new entries after 3pm)\, Pavilion at El Dorado Ranch
9am-5pm – Media Registration, Pavilion at El Dorado Ranch
9am-5pm – Contingency Row, El Dorado Ranch (closed to public)
9am-6pm – Tech Inspection/Transponder Ck/Stella Install, El Dorado Ranch (closed to public)
6pm – Mandatory Aircraft Pilot Safety Meeting, Pavilion at El Dorado Ranch-aircraft, drones
Saturday, April 17, 2021 (Times are PDT)
5:30am-11pm – Media Center Open, Pavilion at El Dorado Ranch
START/FINISH LINE- El Dorado Ranch (closed to public) – 280.2-mile race course
6am RACE START: MOTORCYCLES/QUADS (subject to change)—
(Start Intervals: Pro Moto Unlimited-60 second split, all other classes start one every 30 seconds)
GAP –a minimum of 2 1/2 hour gap between M/C, Quad start and car/truck/utv start
9am approx RACE START CARS/TRUCKS/UTVS (subject to change)—
TIME LIMIT: All classes have 14 hours from time each vehicle starts to complete the course
Sunday, April 18, 2021 (PDT)
6 am – Posting of unofficial finishers, Pavilion at El Dorado Ranch
7am-8:30am – Results inquiry/protest period, Pavilion at El Dorado Ranch
8am-11 – Media Center, Pavilion at El Dorado Ranch
9:30am – Posting of results, Pavilion at El Dorado Ranch
10am-Noon – Racer Trophy pick, Pavilion at El Dorado Ranch
Gallery