in
Health
Correlations between Cannabis, Alpha Brain Waves, and Creativity
Looking at why cannabis sometimes inspires creativity.
Posted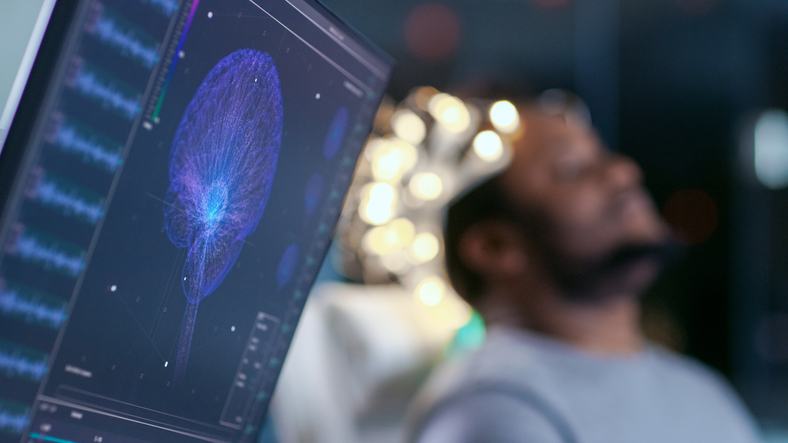 We're sure you've heard the commotion about how some cannabis strains can help increase creativity or help you zone in on tasks with laser-like focus. The anecdotal evidence is there, but what exactly does it mean on a scientific level? What is it about the cannabis plant that can help some people reach a state of mind where ideas are more bountiful and epiphanies seem effortless?

The Different Brain Waves
When we delve into the science behind human creativity, we've come to discover the brain produces varying levels of electrical activity or neural oscillations depending on what we are doing or how much thought we're putting into an idea/our surroundings. Here's a brief view of the various brain waves (in hertz) we've come to discover, where in the brain they originate, and what we're doing when they're prominent:
Brain Wave Hierarchy

Alpha
(8-12Hz)

Present when in a state of creative thinking or meditation in the occipital cortical area of brain. Present when daydreaming or sometimes doing aerobic exercise.

Theta
(4-10Hz)

Present when pursuing spatial navigation or memory processing, found in the hippocampal-entorhinal system. Present during sleep as well as deep states of Zen meditation.

Delta
(.5-1.5Hz)

Present during non-REM sleep in neocortex.

Beta
(13-30Hz)

Present throughout motor system during the absence of movement. (Transient Beta waves present in thalamocortical system during early segment of sleep)

Gamma
(30-120Hz)

Present in all brain structures & states, but dominate the brain when aroused or attentive. The fasted of the brain wave bandwiths. Present when processing info from different brain areas simultaneously. Associated with higher states of conscious perception.

Alpha Waves Linked to Creativity & Mood Enhancement
Alpha waves have recently been correlated with creative thinking as well as a reduction in depressive symptoms by neuroscientists. This means that the perception of our senses is minimized while the mind is (generally) clear of unwanted thoughts and in a productive state of focus.
Shifting our brain wave oscillations to alpha has been found to be useful in treating anxiety and depression since they're linked with relaxed mental states. We generally produce alpha waves when we daydream, visualize, meditate, or brainstorm solutions without interruption.
For more info on how alpha waves are linked with creative states of mind, see this study: Attention Drives Synchronization of Alpha and beta Rhythms between Right Inferior Frontal and Primary Sensory Neocortex.

Claims of Increased Creativity with Cannabis
Once you familiarize yourself with the various mental states that cannabis can produce, you begin to see that many hybrids and sativa strains have anecdotal evidence suggesting that they help increase creativity or improve mental focus. Many reviewers like to use cannabis to assist their creative drive towards hobbies such as artwork, writing, and even meditative visualization/spiritual awareness & advancement.
Reviewers have stated that thoughts flow easier to them and that creativity comes more naturally after ingesting certain strains of the plant. The best way to begin investigating this scientifically is to see if there are changes in brain wave activity after cannabis enters the bloodstream that mimic those of creative and focused brain waves (alpha).

Cannabis Strains Increase Alpha Oscillations
While there's currently limited studies done on human brain wave activity versus cannabis use, there have been a few curious scientists that have personally looked into changes in brain wave activity after smoking/eating cannabis.
One such study was done by Ana Lorga, a Romanian specialist in market research that was reported on by Vice. Her methods include EEG sensors, biometric measurements, and implicit-association tests. When testing two subjects' brain waves before and after consuming cannabis, she found an increase in brain activity across the board, but especially in alpha waves.
"It was clear that the cerebral rhythm was faster after smoking and that wave amplitude was larger - which doesn't mean mean that things function chaotically, but that the brain is in a higher alert state." - Laura Craciun, neurologist commenting on Ana Lorga's findings.
To view the before and after EEG scans, you can watch the video here.

​


What this Means for Future Research
Tests such as this done by private researchers and market researchers can help future studies done using both government and investor money. We are given a fragment of information that can pave the road towards investigating properly worded and guided research that gives us more detailed insight into how the plant interacts with the brain and ultimately, how our own brain works.
The findings above coupled with anecdotal knowledge pertaining to our own bionetwork can offer insight into how we achieve the states of mind that help us experience creativity and eventually, forms of success.
We can now look into which strains truly can offer an increase in creativity - such as whether or not its true that hybrids and sativa strains increase alpha waves better than indica strains, and examine what differences in human biochemistry affect cannabis's effects.
This generation is only now entering a phase of re-accepting cannabis into culture. There's a lot to be discovered, and research regarding cannabis is in its infancy. So long as the truth regarding this plant's capabilities continues to unfold, we will continue to discover not only more about the plant, but more about ourselves in the process.
Comments