in
Cooking
CannaHoney Glazed Carrots
A sweet & hearty root veggie side for sandwiches, barbecues, and Autumn holidays.
Posted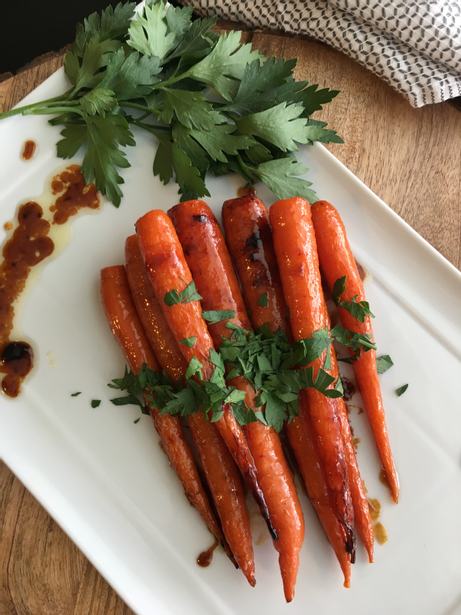 Honey-glazed carrots are already an appealing side-dish, but when combined with the effects of cannabis, it takes satisfaction to a whole new level. This simple 6-ingredient recipe is for the carrot-lovers that enjoy sweet sides or simply the nutrients hearty root vegetables provide. Below you'll find that this version calls for CannaHoney and normal butter – but you can either switch infused ingredients or use both based on how potent you'd like the carrots to be (or if you only have CannaButter on hand).
Ingredients Needed:
3 tablespoons CannaHoney
2 tablespoons butter (CannaButter?)
1 pound baby carrots
1 tablespoon lemon juice
Salt & pepper to taste
¼ cup chopped parsley (optional)
Water
Materials Needed:
Medium saucepan
Stirring spoon (wooden or slotted)
Strainer (optional)
Prep Time: 5 minutes
Cooking Time: 10-12 minutes
CannaHoney Glazed Carrots Recipe
1. Soften Carrots
A. Place baby carrots in saucepan and fill with water until carrots are covered.
B. Boil carrots 5-7 minutes until soft/tender.
C. Use strainer to drain carrots of water, keep in saucepan.
2. Combine Ingredients
A. Turn stove down to medium heat.
B. Place CannaHoney, butter, and lemon juice in saucepan with carrots
C. Cook until mixture glazes over carrots, about 5 minutes.
*Note: Do not exceed temperatures of 325 degrees as this will vaporize cannabinoids.
3. Season & Enjoy
Season with parsley, pepper, and salt to taste before enjoying with your meal!
This recipe is quick and easy to follow, requiring little attention and perfect to go with a fast entrée. Click here for other Assorted Recipe Ideas Using CannaHoney, or here for our CannaHoney recipe.
Comments