in
Travel
Tips for Tanning While Being Baked in Sin City
Don't get sunburned on your first day getting baked in Las Vegas.
Posted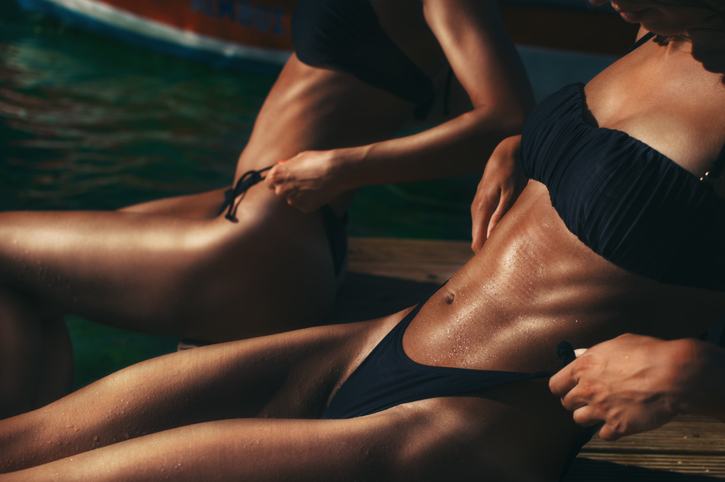 It's obviously going to happen to someone. Ladies get together in Las Vegas, enjoy the cocktails and cannabis, then relax during the day out in the sun near the pools. The ladies that remember to follow the following advice don't get sunburned. The poor souls that forget to recollect this advice... Wear aloe and bras without straps the rest of their trip in Las Vegas while fearing the rays of the sun and cringing whenever someone bumps into their scorched body.
Las Vegas is located in a desert, and the sun offers no mercy. Because cannabis is legalized at a recreational level, it's very possible short-term memory loss may kick-in at some point on your vacation and cause you or a friend to forget to take care of your skin properly while tanning near the pool. Luckily, you've found a list of tips to ensure you can enjoy your tan-time to the fullest without worry. First and foremost, don't forget to put on sunscreen. This is the obvious first tip. Here are the others...
Don't lay in the sun more than two hours. Laying in the sun less than this is ideal, but on vacation you'll indulge of course. However any more than two hours and it's possible you could increase your chances of getting skin cancer caused by overexposure or increase your chance of having a heat stroke. Set a timer on your phone.
Ensure your sunscreen is SPF 30 or better. Dermatologists at the American Academy of Dermatology suggest:
"...using a sunscreen with an SPF of at least 30, which blocks 97 percent of the sun's UVB rays. Higher-number SPFs block slightly more of the sun's UVB rays, but no sunscreen can block 100 percent of the sun's UVB rays."
Protect your eyes by wearing sunglasses that block UV rays. The skin that covers your eyes is thinner than the skin that covers the rest of your body and doesn't block all UV rays from penetrating and hitting your retina. To avoid harming your eyes, ensure you have sunglasses or tanning goggles.
Rotate every 10/15 minutes. This allows the side you've been tanning to take a brief break and cool off as the other side of your body gets baked.
Rub aloe over your body after you're done tanning. Though you may not have a sunburn, tanning does dehydrate the skin. Replenish its moisture by rubbing hydrating aloe or something equally as hydrating such as coconut butter on your body (after showering off the sunscreen). You could even try rubbing infused coconut butter on your body, but be careful you don't use up too much (since it can be expensive) and you don't make yourself too high by using too much.
Enjoy your time with the ladies and ensure everyone gets an even rub of sunscreen by helping put it on one another's backs. Stay safe while discovering the best Las Vegas has to offer!
Comments