in
Cooking
Make Infused Chocolate Fondue this Valentine's Day
Your special someone will love this chocolate with a twist.
Posted
One of the more romantic traditions on Valentine's Day for couples is sharing fondue. It can be enticing to take fruits and cakes, dip them in melted chocolate, and feed the delicious sweets to one another with candlelit ambiance and the potential to drip warm chocolate on each other's skin.
This Valentine's Day, surprise your special someone with an infused batch of fondue chocolate. It can be milk, dark, white, or you can add your own flavors like cinnamon or mint to the recipe. This is an easy and fun way to enjoy the evening and night with one another.
5 Materials for Infused Fondue
1 heat-safe bowl
1 large pot
Stirring spoon
2 long-stemmed forks (or regular forks)
Plate
Knife & cutting board
5 Ingredients: The Infused Chocolate Dip
6 ounces of chocolate of your choice (milk/dark/white; Hershey/Nestle/Ghirardelli/etc.)
1 1/4 cups of cannabis-infused milk
2 tablespoons of cannabis-infused butter
1 teaspoon vanilla extract (optional)
2 tablespoons of chocolate liqueur (optional)
*Note: to reduce taste of cannabis or potency, use only one of the infused ingredients.
Choose Your Ingredients to Dip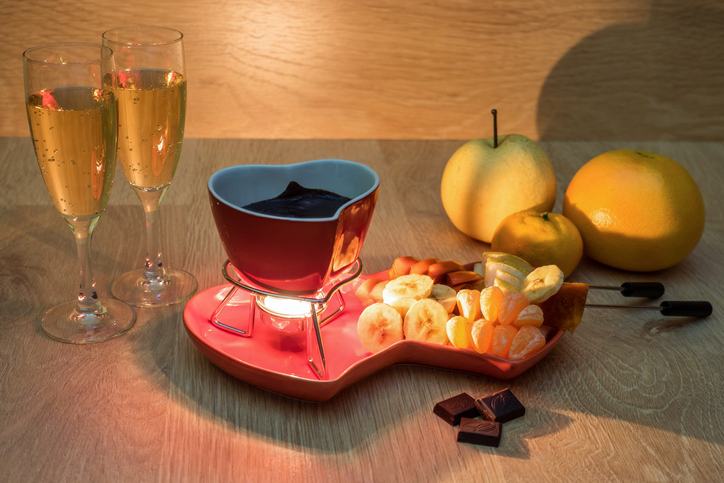 Strawberries
Cherries
Bananas
Pineapple
Grapes
Raspberries
Blackberries
Blueberries
Kiwi
Apples
Pound cake
Angel Food cake
Marshmallows
Pretzels
Rice Crispie treats
Donut holes
Mini eclairs/cream puffs
Graham crackers
Directions
Place the chocolate in the heat-safe bowl then place bowl in pot (the cooking utensil, not the cannabis, just to be clear...). Fill pot with water until its about an inch below the bowl's top. Place on oven and turn heat up to a gentle simmer. Chocolate should begin to melt - use stirring spoon to stir any clumps out.
Add the cannabis-infused milk andcannabis-infused butter while stirring slowly. Remember that cannabis can't be heated above the mid-300's (degrees in F) without destroying cannabinoids, and chocolate begins to melt in the 80's. Find a nice in-between if you have a thermometer on hand.
Add the vanilla extract and chocolate liqueur. Stir & taste. Add any extra herbs or spices to enhance flavor.
Chop up the pieces of fruit or cake you've chosen and place them on plate. Remove pot from heat and serve with chosen dippers.
An easier method is to simply add a concentrated form of cannabis to the chocolate concoction such as decarboxylated oil.
We hope you enjoy this recipe and stay safe this Valentine's Day while enjoying it with your significant other or friends, depending on whether you're taken or single.
Cheers~

Comments