in
Cooking
Spicy CannaHoney Sriracha Wings
Crispy wings glazed in an infused sweet and spicy sauce that'll send your taste buds on an adventure!
Posted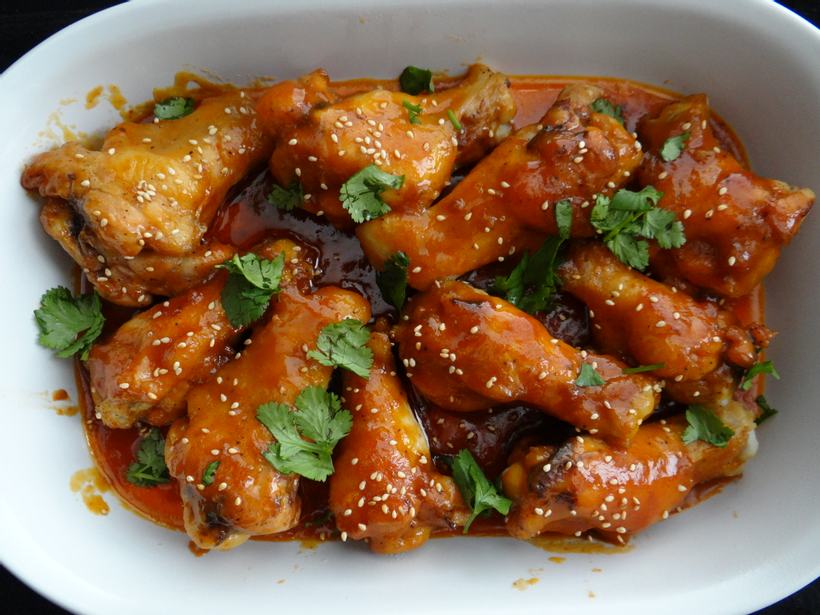 The combination of sweet and spicy is a classic, becoming more popularized in today's culinary world as new and enticing dishes are created using this delicious balance of flavor. This recipe calls for CannaHoney, so have some on hand before turning that oven on!
Ingredients Needed:
¼ cup CannaHoney
¼ cup Sriracha sauce
1 tablespoon soy sauce
1 lime, juiced
1 tablespoon flour
7 tablespoons butter
2 pounds chicken wings
1 tablespoon oil (vegetable or canola)
1 teaspoon garlic powder
1 tablespoon chopped cilantro leaves
Black pepper – to taste
Sesame seeds (optional) as garnish
Materials Needed:
Large baking sheet
Parchment paper
Small saucepan
Whisk
Large bowl
Prep Time: 15 minutes
Cooking Time: 30 minutes
Spicy CannaHoney Sriracha Wings Recipe
1. Preheat & Prep
A. Preheat oven to 400 degrees F.
B. Line baking sheet with parchment paper
2. Make Glaze
A. Place 5 tablespoons of butter in small saucepan over medium heat & allow to melt.
B. Whisk in flour. Mixture should turn light brown (after 1 minute).
C. Lightly whisk in Cannahoney, sriracha, soy sauce, and lime juice. Allow to simmer on medium until thick.
*Note: Do not allow mixture to boil or reach over 325 degrees F as this will vaporize cannabinoids.
3. Prep Wings
A. Combine last 2 tablespoons of butter, oil, garlic powder, salt and pepper (to taste) in large bowl, mixing well.
B. Place wings in large bowl with mixture and lightly toss until wings are thoroughly coated.
4. Bake & Coat
A. Place wings on baking sheet & bake 25 minutes.
B. At 15 minutes, use tongs to turn wings over for rest of baking time.
C. Lower oven to 325 degrees.
D. Coat wings with Sriracha glaze and bake for another 10-15 minutes until crispy.
E. Garnish with cilantro and sesame seeds if preferred.
*Note: Do not bake wings with sriracha glaze above 325 degrees as this will vaporize cannabinoids.
FIN
And that's all there is to making deliciously sweet and spicy wings, perfect for game day, parties, and as a munchie when feeling the need for a light dose of edible cannabis. If you haven't made CannaHoney yet, click here for our recipe.
Comments