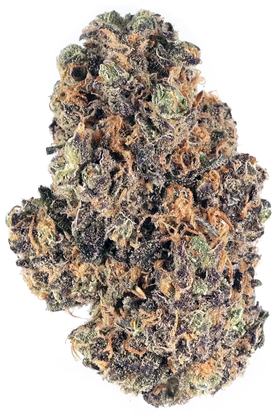 Über diesen Indica-Stamm
Today's flower of interest is Purple Cotton, a cannabis strain named not only because of its colorful and fluffy appearance, but because of its genetics that stem from Purple Kush and Cotton Candy.
Purple Cotton is an indica strain that produces buds shaped like little Christmas trees, having several shades of violet within them and clusters of yellow pistils. To top off this wonderful appearance, it's covered in a layer of trichomes that gives it a cottony appeal. When you open up a package of Purple Cotton, you'll immediately smell sweet and fruity, but slightly skunky buds with a layer of spices beneath it all.
Purple Cotton stands well with its indica reputation, providing the consumer a mild couchlock experience - so be sure to try this strain after all the important day's tasks have been completed. However, many reviews have noted it can provide a small kick of energy as the high wears down, making this strain a good one to try after work but before dinner and recreation. Purple Cotton will cause hunger, so again, taking this strain before dinner or having some snacks on hand will make your experience much more enjoyable. Users say they use Purple Cotton to relieve pain throughout the body or for stress and anxiety. Its THC range rests between 20 and 23 percent, so those that are sensitive to THC will want to stick with smaller doses.
---
Abstammung
---