in
Cooking
Jalapenjuana Poppers
Crispy Jalapeno Poppers filled with cream cheese and infused with cannabis.
Posted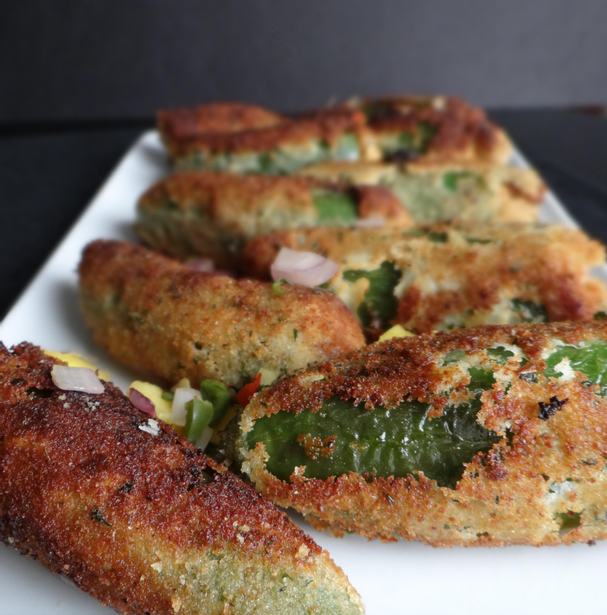 That's right – this is a recipe that includes frying without vaporizing THC and CBDs. The trick is to fry fast as the cannabinoids remain safe within the inside of each jalapeno. These make a great snack on game day or as an appetizer for barbecues (but you'll definitely have to make more than 12!). Feel free to experiment with using different cheeses or adding other delicious ingredients to the Canna Cream Cheese. You can create your own bread crumbs using flavors/spices you love or grab some pre-made at your local grocer.
Ingredients Needed:
12 jalapeno peppers
1 cup Canna Cream Cheese
¼ cup Baked Bud Bacon (optional) broken up into bits
½ cup seasoned bread crumbs
½ cup cheddar cheese
¼ teaspoon paprika
½ cup milk
½ cup flour
Oil for frying
Salt & pepper to taste
*Note: Do not use CannaMilk, CannaFlour or any Infused Oil – these ingredients will be used for frying thus any THC/CBDs will vaporize and go to waste. Potency of Poppers depends on potency of Canna Cream Cheese and whether or not Baked Bud Bacon is incorporated into recipe.
Materials Needed:
Knife & cutting board
Medium mixing bowl
3 small bowls
Large skillet
Large spoon
Tongs
Paper towels
Prep Time: 20 minutes collectively
Cooking Time: 5 minutes
Jalapenjuana Poppers Recipe
1. Prep Jalapenos
Wash jalapenos, cut off stems, and hollow of all seeds. Set aside.
2. Combine ingredients
A. Place softened, room-temp Canna Cream Cheese, Baked Bud Bacon bits, cheddar cheese, paprika, salt and pepper in mixing bowl and blend together with spoon.
B. Taste to ensure flavor – add any extra ingredients to suit your buds.
3. Stuff Jalapenos
Stuff jalapenos full with blended mixture. Set aside.
4. Prep Poppers
A. Fill three small bowls: one with milk, one with flour, and one with bread crumbs.
B. Dunk stuffed jalapenos in the milk, then into the flour. Repeat with all 12 and let set for 5-10 minutes.
C. Take flour-coated jalapenos and dunk in milk a second time, then roll in bowl of breadcrumbs. Repeat with all 12 and allow to set for 5-10 minutes until mostly dry.
5. Fry Up Poppers
A. Heat thin layer of oil in skillet over medium-high heat.
B. Once oil is heated, place jalapenos in skillet and fry for about 2 minutes on each side until golden brown using tongs to carefully flip/roll.
C. Once golden brown, remove poppers from skillet and place on paper towel to allow oil to drain and cool.
*Note: Do not over-cook as this will allow too much heat to reach the Canna Cream Cheese, vaporizing the THC and CBDs within.
And that's all there is to making spicy Jalapenjuana Poppers! If you're truly a Jalapeno fan, you can even try making our Infused Chocolate Jalapenos as a unique and spicy dessert!
Comments